May 01, 2022Ed. Note: This article was originally published on Oct. 29, 2012, and was updated on May 1, 2022.
Most people do not like change, yet change is inevitable for all radio frequency identification adopters. Whether you're piloting your first solution or expanding an existing one, RFID will impact the way your company conducts business and how your employees do their jobs. Understanding and addressing these issues upfront is key to successfully deploying RFID.
While there are many books, seminars and university programs devoted to change management, they are not focused on the challenges of deploying RFID. So RFID Journal spoke with several experts in the field who have observed or worked on a variety of deployments. These individuals have seen how people concerned about their jobs can sink a system—and how educating stakeholders and preparing for the unknown can lead to a solution that improves a company's bottom line.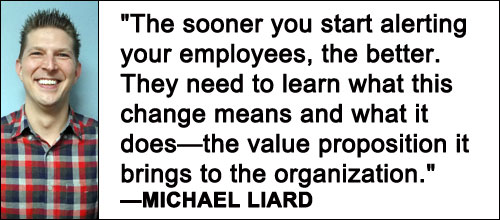 Here, then, are six steps every company should follow to manage change successfully:
Make a Solid Case for Change
Making the move to RFID, or dramatically expanding or modifying an existing system, is a milestone event for almost any business. The reasons for such a major change—requiring large investments in both money and human capital, and impacting employees, customers and business partners—needs to be communicated to all levels of your organization in a clear and decisive manner.
"The sooner you start alerting your employees, the better," states Michael Liard, the director of RFID at VDC Research, an RFID industry research and analysis firm based in Natick, Mass. "They need to learn what this change means and what it does—the value proposition it brings to the organization."
Many organizations approach change by creating a formal mission statement that incorporates three essential elements: a convincing need for the change, documented proof that the new or modified system will deliver tangible benefits over the long term and a detailed road map that will guide planning and decision-making.
"The biggest thing is understanding exactly what the end result is going to look like and communicating this vision upfront—not only to management but also to the end users," says Neco Can, the president and CEO of RFID Enabled Solutions, an RFID systems integrator located in Dublin, Ohio.
Bring Organizational Stakeholders into the Planning Process
The choice is simple: Embrace change at the project's start by involving all organization's stakeholders in system planning, or simply hope that you and your planners are smart enough to cover an entire spectrum of design issues without any input from those who will actually use the system.
"First and foremost, you need to develop a team," Liard explains. "You'll need an action team to develop an RFID blueprint and program, as well as to ultimately deal with pre-implementation, implementation and post-implementation concerns."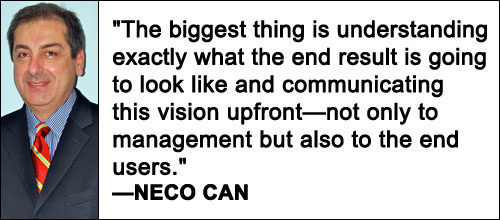 Liard suggests including representatives from IT, operations and all business areas that will be affected by the change. "If you're in a retail setting, for example, and you're using the system for a storefront application, then you might need to get a marketing person involved," he says. "In the manufacturing vertical market or transportation sectors, you're going to need to include a supply-chain manager or a logistics lead as part of the team."
Recruiting a strong, decisive project leader is also crucial, says Frank Harris, the director of development services at RF Code, an IT asset-tracking and environmental and power systems monitoring firm based in Austin, Texas. "There needs to be an executive sponsor taking ownership of the project," he states. "This executive should notify employees of the changes that will be coming up—and that once the transition is made, RFID will make their jobs easier, saving them time in the long run."

Manage Change with All Supply Chain Partners
Imagine if you planned a party and nobody showed up. That's the way many RFID adopters feel after deploying a system that ends up being underutilized because key supply-chain partners cannot or will not provide compatibly tagged goods.
"Involving supply-chain partners in project planning is not only a good idea, it's essential," Liard observes, noting that communication and cooperation are vital for creating support among partners. "We've seen all the failed attempts at the proverbial gun to the head; we've seen this approach taken multiple times and fail."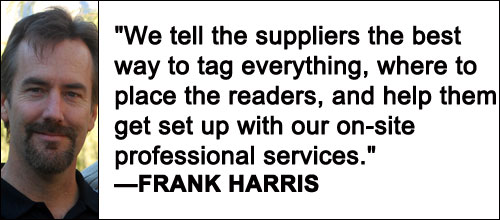 When presenting a proposed change, it's important to consider partners' needs and expectations. "Do they want 100 percent accuracy? Is 95 percent acceptable?" Can asks. Making a change that fails to meet partners' needs is almost certain to cause trouble and result in participation that is, at best, lackluster.
Map out existing operations in order to show partners exactly how they will benefit from the planned change, advises Tom Reese, the senior director of business development at Intelleflex, an RFID systems integrator based in Santa Clara, Calif. "It opens the door to an intelligent dialogue."
Supply-chain partners are usually eager to embrace a change that promises better performance, enhanced efficiency or some other type of tangible benefit, Harris says. Many partners, however, need some support. "Suppliers generally want to know how they can help," he says. "We tell the suppliers the best way to tag everything, where to place the readers, and help them get set up with our on-site professional services."

Consider How Change Will Be Affected by Physical Elements
Whenever a major change is contemplated, it's important to consider how new or modified technologies and processes will fit into an existing environment, such as loading dock locations, warehouse shelving configuration and retail floor space. Few organizations enjoy the luxury of a physical plant specifically designed to accommodate RFID technology. Far more common are facilities built in such a way that disrupts the flow of RFID-enabled processes, obstructs RF signals or poses some other type of challenge to successful system operation.
Existing resources may also need to be improved or replaced. Increased data traffic, for example, may overwhelm networks that were designed and deployed many years prior. Can notes that he's observed cases in which businesses saw their aging wireless networks simply fold under the pressure of heavier traffic loads. "Their connectivity was so terrible that they had to find another approach," he states. Possible solutions include adding higher-capacity routers or additional wireless access points, or using a wired network to transport large amounts of data between fixed readers and servers.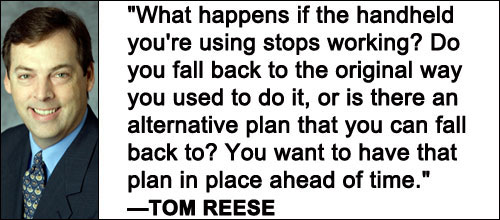 Yet, change can also have a beneficial impact on the local environment. At stores, hotels, hospitals and other public facilities, modern RFID gear can be seamlessly blended into building structures and equipment, thereby making the technology virtually invisible. "For all practical purposes," Can says, "you can implement RFID into a store today and nobody will know you are using it."
Help Employees Understand and Use New or Altered Technology
Workers generally fear that any new technology or process is bound to lead to more work and bigger headaches, with no increase in pay or benefits. In addition, employees tend to worry that the impending change will lead either to fewer jobs, or to jobs requiring technical abilities far beyond their current skills.
"One thing we often forget, when we deploy RFID within enterprises, is who's going to be using it on a daily basis—the guys on the manufacturing shop floor, the women in warehouses, nurses and doctors in health-care facilities and so on," Liard says. "Education, awareness and training need to be front and center before you begin deploying the technology."
Employees must be helped to understand how the changeover will affect their jobs and daily routines. "They need to know how RFID is going to make a meaningful impact on their positions," Liard adds. "They need to know that the change is not necessarily taking their jobs away, but will make their jobs easier and automate things that normally would have been very manual processes."
Automating manual operations. for example, may free managers to deal with more important tasks. In some instances, employees may be concerned about the data being collected. Reassure workers that "Big Brother" is not watching them, and that their movements are not being tracked and monitored.
Moreover, avoid guaranteed morale busters. "One of the biggest reasons why any IT project fails to gain acceptance is because it's all too complicated," Can says. Many businesses, for instance, make change more difficult to handle by burdening users with software that is extremely powerful yet obtusely designed, requiring them to deal with non-intuitive commands, a seemingly endless array of pull-down menus and other poor design features. An application, he notes, should guide users through complex activities and have the built-in ability to spot and prevent common errors. "This helps the users at the end of the day. They don't want to make mistakes."

Prepare for Unexpected Deployment and Operational Problems
The biggest change-related challenge that RFID project leaders face occurs when a new system component or modified process either does not function or fails to meet a planned objective in some critical way.
According to Harris, RFID adopters can safely sandbox unexpected problems by making critical changes on a test network. "Use a test network and then a production network," he advises. "Make sure that everything is working the way it's supposed to in the test network and then make the change on the production network."
Anticipate the possibility of some sort of initial system shortcoming or failure during project planning, Reese says. "What happens if the handheld you're using stops working? Do you fall back to the original way you used to do it, or is there an alternative plan that you can fall back to? You want to have that plan in place ahead of time," he states
RFID is more than just tags and readers. The companies that will benefit most from RFID are those that embrace change. They plan for changes in business processes and operations, and help their partners and employees understand the need for such changes, and how it will help them do their jobs better.