Feb 16, 2020Michigan high school student Yousef El-Chafei has leveraged his own technical know-how, along with some RFID experience from his father, to develop a passive UHF system aimed at improving safety and efficiency at schools. The system he developed uses ClearStream software from Portable Technology Solutions (PTS) to track students or faculty members in schools, in order to provide visibility during an emergency, such as a school shooting.
Walled Lake Western High School, where El-Chafei is currently a junior, is now considering how it might deploy the solution to boost school safety and make attendance more efficient. El-Chafei embarked on his RFID project for a spring hackathon that challenged high school students to solve problems using technology. He tested the solution in his own home, then demonstrated it for hackathon judges in the spring of 2019. That was when some school administrators got their first look at the solution.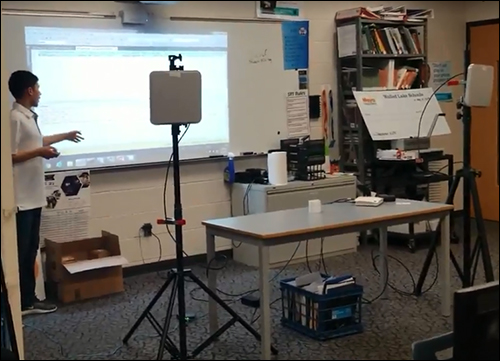 "What an innovative way to protect students and also provide an avenue of understanding where our students are," says Ali Hamka, Walled Lake Western High School's administration principal. El-Chafei won first place in the hackathon and took home a $700 cash award. The system uses RFID badges for students, as well as fixed readers to capture those badge IDs, with ClearStream middleware, so that schools could view where students were last located by the system. With this information, rescue operators or school personnel could view where students are during an emergency, and also better understand who reported to which classrooms for attendance purposes.
El-Chafei had been reading about school shootings, he says, and began strategizing a technological solution that would qualify for the hackathon. His father, Rami El-Chafei, is the VP of technical services at RFID solutions company Lowry Solutions, so Yousef was familiar with RFID technology and what it can accomplish. "I went to my dad and asked if there was a way to know where each student is with RFID," he recalls. He then contacted PTS about its customizable RFID software platform.
From there, El-Chafei started building the system. "It was very simple," he says. He acquired off-the-shelf passive UHF RFID tags and, with the help of his father, installed a reader antenna in the ceiling of his basement, then collected data on his home computer. Each time he entered the basement with a tag, the system identified his arrival, and it then tracked when he left the basement as well. For the hackathon, he planned the deployment at the school.
While El-Chafei envisions the system reading tag IDs in a school's hallways, for the contest he installed a single reader and two antennas, one at a room entrance and the other designated for exits. The unique ID number encoded on each RFID badge was captured by a reader, managed by the ClearStream middleware and forwarded to his laptop's MS SQL database. To gather reports, El-Chafei used Microsoft Excel 365 Power Pivot.
El-Chafei input one of the judge's names into the system, which was linked to the tag's ID, then invited her to walk through the portal. The system captured the tag reads and displayed her location as she passed through in both directions. "The judges were very impressed," he states. They confirmed not only that the technology works, but that it has the potential to solve a wide-scale safety issue at schools. "It's really a big problem," El-Chafei says, "when you see a disaster like this and people are rushing to find their kids."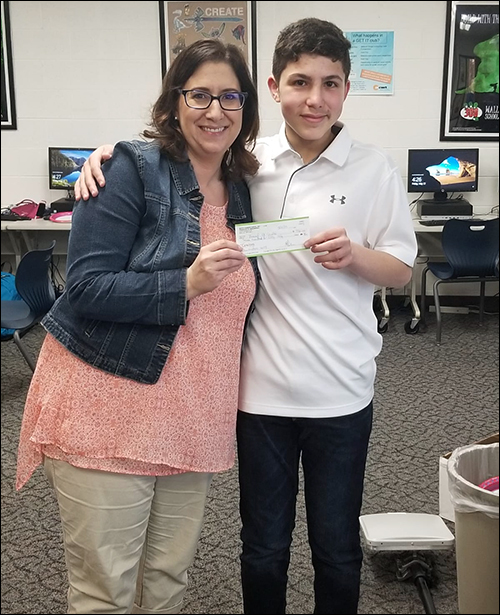 The RFID system, based on the deployment of RFID readers and antennas, can pinpoint exactly where they are, thereby providing information that not only would put parents' minds at ease, but also could provide important data for rescue operations. Yousef envisions the system including an ID badge for students that would be voluntary. "They could always opt out," he states.
Hamka sees several benefits to such a deployment. "With the technology we have today, there should be a way to help protect students," he says, adding that it could also be used in non-emergency scenarios, such as for attendance management.
ClearStream provides a drag-and-drop environment for systems integrators and developers, designed to make it easy to deploy for a variety of solutions, according to Brad Horn, PTS's CEO. In fact, he says, companies can use the platform for everything from LF, HF or UHF RFID to beacon-based Bluetooth Low Energy (BLE) data. The solution's role, Horn says, is "to listen to readers and bring the read data into a system-usable format." PTS is currently engaged in RFID projects of all sizes, or customized projects, Horn says. Such deployments include systems to track work-in-progress, maintenance, livestock or baggage management.
Horn was intrigued by the potential for El-Chafei's idea to not only boost security but also make pupil attendance automatic. "What attracted me about what Yousef was doing was the fact that my kids were going through the same thing in their school," he recalls, adding that most schools face both security and attendance efficiency issues. If a student isn't properly counted during a manual attendance count, for instance, administrators could mistakenly alert parents of an absenteeism problem that doesn't exist.
With the system tracking students' RFID badge IDs, the responsibility of attendance counting could be taken away from teachers and become more error-proof. Once PTS provided its software platform to El-Chafai, Horn says, "He saw what our software could do and built out a prototype that could be more effective than [existing security] systems." Since there is no coding necessary, he adds, the system does not require a programmer; instead, "it's intended for people with a basic talent to then configure a system."
The ClearStream software can provide a variety of features, such as sending alerts to administrators if individuals are not in a given room when expected, as well as identifying potential problems such as a large group of students entering a bathroom at once, which could indicate a fight might be taking place. A cloud-based ClearStream version is expected to be released during the second quarter of this year. The ClearStream system operates with fixed readers; however, the company recently announced that it supports Alien Technology's ALR-H460 portable RFID readers as well.
According to Hamka, school personnel will hold staff meetings this month, during which they will discuss the technology and how it could be used in district schools. Students already carry identification badges for library access, lunch and detention. Actual adoption of an RFID-based system, however, would require considerable research before the process could move ahead, he adds.
To deploy the solution across a typical school, a district would require approximately 100 antennas, in addition to software, an RFID reader and a database for collecting, reporting and analyzing location information about staff members and students. That could include an antenna at each school entrance and exit, as well as in every hallway.