Nov 15, 2015The days when air travel was a glamorous experience are long gone, at least for the average consumer. Today, passengers have to deal with seemingly endless security lines, baggage-handling fees, departure delays and limited leg room, while worrying where and how far away their gates are and whether their checked bags will arrive at their destination airport the same time they do. Anticipating their trips to the airport, many surely wonder: Can't something—anything—be done to make flying just a little less stressful?
Some airlines and airports have been working to do just that, turning to radio frequency identification technologies to track luggage more accurately, automate check-ins and provide an easier way for travelers to get updated flight and gate information. But it's been a slow journey toward the adoption of RFID baggage-handling solutions. And the use of Bluetooth Low Energy beacons in airports to deliver up-to-date information to passengers' smartphones is still emerging.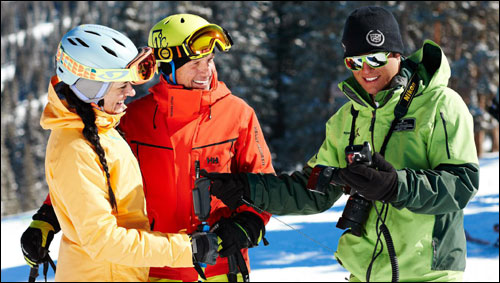 But those working in the airline and airport industry believe standards, improved technologies, and pilot projects and deployments will, in the next few years, move the sector from the transition phase it's in to one in which RFID is used worldwide to improve customer services. (Meanwhile, Airbus and Boeing are making progress working with customers to RFID-tag parts and equipment on airplanes, which should improve operations and maintenance, potentially reducing delayed departures. Some airlines, for example, can quickly check the presence and expiration status of life jackets on an aircraft.)
Missing: RFID Baggage Solutions at Airports
In 2005, the International Air Transport Association (IATA) published the RP1740C standard, which defines the requirements for applying RFID technology to baggage handling. IATA, the trade association representing and serving the airline industry, endorsed the use of ultrahigh-frequency RFID tags and readers compliant with the ISO 18000-6C protocol as a global air-interface standard for baggage tags.
Today, Hong Kong International Airport, Lisbon Airport and McCarran International Airport in Las Vegas are among the few airports that have invested in RFID systems for baggage handling and tracking. And not one airline has adopted RFID for baggage handling across its entire network. "I think it's fair to say that RFID has not taken off quite as quickly in the industry as we thought it would [for baggage handling]," says Samuel Ingalls, McCarran's assistant director of aviation, information systems.
McCarran launched its RFID baggage-handling system at its Terminal 1 facility in September 2005, leveraging Gen 1 UHF technology for sorting and routing luggage. Since then, that facility has been upgraded to Gen 2 UHF disposable tags and readers, and Terminal 3 opened in summer 2012 with the same system in place. Readers installed above conveyors at various points interrogate an RFID inlay's unique identifier, which is linked to the flight number for the luggage, and transmit that information to the airport's sortation system to ensure appropriate baggage routing. Passengers can use self-check-in kiosks to print their own RFID baggage tags.
RFID has proven itself highly accurate and stable in routing bags over the 12 miles of McCarran's complex baggage-conveyor system, Ingalls says, despite the fact that many of the airport's carriers have relatively short turn times to move bags from place to place. According to recent figures, the system achieves between a 99.2percent and 99.6 percent read accuracy for approximately 31,000 bag tags on an average day and roughly 50,000 on a peak day.
"If 10 percent were not accurately read and were either going around the system looking for a read or routed to the wrong location, that would be some 3,000 bags to be manually dealt with on a normal day or 5,000 on a peak day, and the majority of them would miss their flight," Ingalls says. "It's frustrating for customers to not have their bag arrive when they do, so RFID has helped us cut down on customer frustration. The secondary thing is that it has helped cut down on costs to air carriers for having to reunite those bags with their owners."
In addition, says David Bourgon, McCarran's manager of airport IT services, the airlines have access to the airport's database of the bags they are carrying. With all the information it hosts about every RFID read point a bag goes through, they gain "a far more granular picture of exactly what happens to bags that they can use to make decisions to improve processes."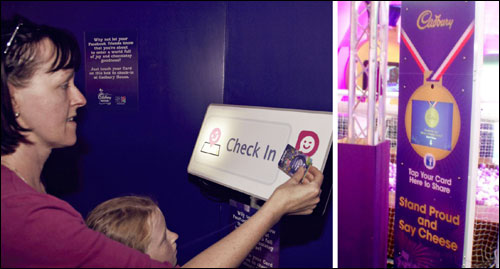 The pace of adoption has been slow despite advantages like better read rates with RFID bag tags compared with bar codes, agrees Michael Vistisen, market unit director at Lyngsoe Systems. The company has installed its complete RFID on Baggage solution at Lisbon Airport, Milan Malpensa in northern Italy and Aalborg Airport in Denmark, and 20 airports in Scandinavia use the solution for baggage tracking for Scandinavian Airlines. Lyngsoe also supplied the readers for Hong Kong International Airport's baggage-tracking system.
"When you have poor read rates, as you do with bar codes, you miss a lot of suitcases and they have to go back to the sorting process, get rerouted and so on," Vistisen says. "When the same suitcase has to go through the same sorting machine more than once, that takes up capacity."
The Baggage Handling System (BHS) at Hong Kong International Airport, for example, processes more than 80,000 bags per day on average, and 100 percent of them are using RFID tags and labels, says an airport spokesperson. "In the past few years, we completed the baggage capacity enhancement projects, which cost about HK$750 million," the spokesperson says. "Currently, RFID technology is integrated with new conveyor systems throughout the projects to increase the capacity of the BHS from 8,000 bags per hour to 16,000 bags per hour." Plans are in place to deploy RFID baggage tagging in conjunction with the airport's self-bag-drop check-in counters in the near future.
But the industry by and large is conservative, Vistisen says, and wide-scale adoption requires that "several stakeholders in the bag-handling process need to come together and have an incentive structure" to move things along. Even large airlines that have taken up the RFID cause for baggage check-in and handling purposes have only been able to take things so far on their own.
In 2011, Qantas began offering its Faster, Smarter Check-in solution, which features RFID-enabled frequent-flyer cards that passengers can use to quickly check themselves in at the airline's Q Card Reader kiosks. The card also functions as a boarding pass.
Passengers who use permanent RFID-equipped Q Bag Tags can check their luggage at Auto Bag Drop kiosks. They scan their boarding pass or Qantas Card to automatically synchronize their flight details with the Q Bag Tag's RFID chip. (Qantas Platinum One, Platinum, Gold and Silver frequent flyers receive complimentary Q Bag Tags; other passengers can buy them at qantas.com and some retail outlets.) As a bag moves from luggage belts to carts and tarmacs, fixed and handheld readers at various points scan its identity for accurate routing.
But the Faster, Smarter Check-in solution is a domestic effort—Q Bag Tags can be used only for Qantas and QantasLink flights within Australia. "The difficulty with international adoption is the RFID readers required back-of-house in the baggage-handling systems," says Richard Dinkelmann, managing director at ICM Airport Technics Australia, which supplied 80 Auto Bag Drop systems for Qantas at six Australian airports. Qantas can exert a lot of infrastructure control at domestic locations such as its Sydney terminal, where it manages everything, he notes. So it made sense for the airline to invest in back-end RFID infrastructure at these sites.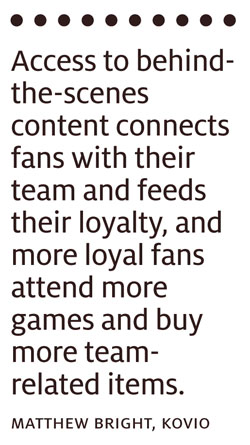 But at most airports worldwide, many airlines share common baggage-handling facilities. The airlines would have to band together, develop a business case for an RFID baggage-handling infrastructure and convince airport owners that there would be a return on investment, Dinkelmann says. "This hasn't moved further because of this," he adds.
Found: A Route to Adoption
"RFID will slowly but surely find its way into baggage operations," according to a spokesperson for KLM Royal Dutch Airlines, which has been part of the Air France KLM group since a 2004 merger. To foster adoption, early next year, the Air France KLM Group—in conjunction with FastTrack Company, telco KPN and luggage maker Samsonite—plans to launch the eTag, a permanent electronic label that attaches to the outside of a suitcase, and eTrack, a tracking device that goes inside the bag. The idea is that the technology won't be limited to a single airline, so it will have broad appeal to airports and consumers.
The e-Tag will be available in conjunction with multiple participating airlines (as yet to be named beyond Air France KLM), while FastTrack has launched a pre-order campaign under the brand-name Eviate, in which eTrack can be purchased at a discount. The devices can be used separately but are designed to work together.
The e-Tag lets consumers load flight data to the tag and check in at home, so they can just drop off their bags when they arrive at the airport. It is readable by both bar-code and RFID readers; an airline's check-in system generates the bar-code or RFID identification. Details for each new trip can be updated automatically and reflected on its E Ink screen. The eTag uses Bluetooth to connect with consumers' smartphones, so it can alert passengers when their luggage arrives at a carousel. eTrack lets passengers flying with any airline track their bags and bag status during travel via a smartphone application.
"By including RFID in the e-Tag, airlines and airports will be able to shift to RFID in a controlled manner," the KLM spokesperson says. In addition to Air France KLM and Qantas, at least six airlines are interested in the reusable tag concept, either with or without the digital display, says Andrew Price, IATA's head of airport operations management. "They all contain an RFID component, so we will see more traction in the RFID world come through that," he says.
Other airlines are exploring development of reusable tags. Bourgon says some carriers (which he's not at liberty to name) have tested their versions of reusable tags at McCarren "in what the industry deems the largest RFID test facility in the U.S.," to have visibility straight through into the belly of their planes.
The industry is in a transitional phase, says IATA's Price. Some airlines and airports still use traditional 1-D bar codes for luggage tags and bag handling, others 2-D bar codes, and still others disposable and reusable RFID tags. Though e-tags are on the horizon, their cost, with screens and batteries, could be an issue, he says. It will take a few years to sort it all out, he adds, and 1-D tags are not being retired, because many airlines want to maintain some compatibility with existing systems. To help airlines and airports reach a consensus and move forward, IATA plans to offer research and recommendations.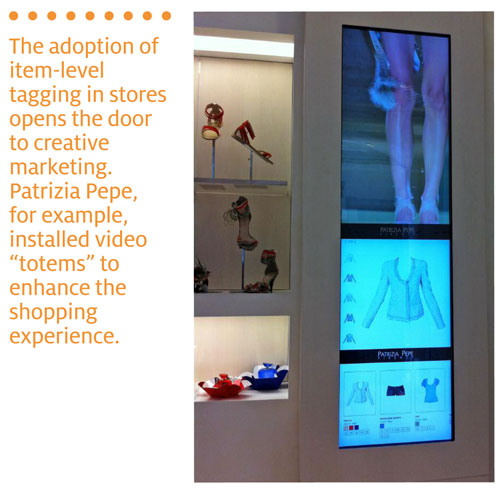 The organization's Resolution 753, for maintaining accurate baggage inventory, might be key to more widespread adoption of RFID. By June 2018, IATA members—roughly 260 airlines in more that 117 countries—will be obligated to demonstrate delivery or acquisition of baggage when custody changes; provide an inventory of bags, upon departure of a flight; and be capable of exchanging these events with other airlines as needed. "You can do that with an RFID chip inside a bag tag and that RFID chip can have a Globally Unique Identifier (GUID), and if you index that into baggage messages, it's a very nice way to do cheap and reliable tracking," Price says. "And there are a lot of opportunities there once you can track a bag to a higher degree of accuracy in terms of being able to provide more and better information to passengers."
The more information that can make its way into passengers' hands, the better for everyone. A pilot is in place now with Lyngsoe and several airports and airlines in Scandinavia to give selected frequent-flyer passengers reusable RFID tags to attach to their luggage and mobile apps to monitor their bags' location. That way, passengers can know how much time they have before their bags reach the carousel for reclamation.
"The incentive for airports [to participate in the RFID pilot] is to keep customers in commercial areas where they spend money instead of staring at the baggage area," Vistisen says. "And, of course, everyone believes this will give customers a better experience of being in the airport. That's important because today airlines are focused on customer satisfaction and loyalty, and they are looking for ways to win customers from competitors, versus a few years ago when they were focused more on cost savings."
Focus: Customer Service
Airports are also exploring the use of Bluetooth Low Energy beacon technology to help reduce travel hassles. The battery-powered devices can enable a variety of applications that provide passengers with real-time information via their smartphones and tablets, such as updated departure times and promotional offers at nearby shops. Passengers are more relaxed when they know where to go and when, and they are likely to do more shopping on the way to their boarding gate or while waiting for a flight.
In 2014, Miami International Airport installed hundreds of Bluetooth beacons across its facilities, from check-in gates to valet parking zones. "Airlines that fly to Miami are already working on their apps so passengers will start seeing the benefits very soon," says Maurice Jenkins, the airport's division director of information systems, in a statement announcing the deployment.
Hong Kong International Airport also has trialed beacon technology, and the airport spokesperson says it's working with different partners to move things forward in this arena. "With this beacon infrastructure in place at HKIA in the near future, mobile applications can be built by airport, airlines, handling agents and other service providers that will improve passenger experience and operational efficiency," the spokesperson says. "For example, passenger way findings, boarding alerts and proximity marketing will be enabled at HKIA."

Key to these and other beacon initiatives is the Common-Use Beacon Registry, established by SITA Lab, the research and development arm of industry-owned air transport IT and communications specialist SITA. The registry defines standards for deployment to ensure interoperability among airports worldwide. In addition to Apple's iBeacon technology, Google and Samsung introduced beacon formats for the Android OS. This will spur adoption, says Kevin O'Sullivan, who has spearheaded the SITA Lab beacon research.
But, he adds, "incompatible formats and integration hassles awaited if airlines and airports all went in their own directions. To enable beacon technology to be adopted by our industry, we needed some sort of standardized way to deploy these devices. That way, an airline flying to Heathrow gets the same experience as one flying to JFK or Singapore or wherever."
To simply adoption, the registry establishes a common-use beacon infrastructure, functioning as a directory listing of all the beacons at airports worldwide, along with standards on how to deploy them, from major identification values to zone addressing values (check-in, security, retail, gates and so on). SITA also offers recommendations on beacon placement. This fall, a task force composed of SITA, IATA and the Airports Council International will publish a document recommending the Common-Use Beacon Registry as a recognized practice for the industry.
Airports should be the parties to authorize and enable the installation of beacon infrastructures, O'Sullivan says, but it may be airlines that become the principle users of the technology, simply because passengers are more familiar with airlines apps. Airlines will likely see fees for use of beacon technology rolled into their common infrastructure management charges. Retailers can also benefit if consumers install their apps. Passengers will have to consent to turning on Bluetooth and giving an app permission to use their locations.
There are still a few kinks to be worked out, given all the airline, airport and operational systems data. "There are so many different versions of data floating around on everything from when a flight leaves to where boarding is, so there is an individual offshoot project under way as a SITA-brokered solution to come up with a single version of truth across the industry and its multiple stakeholders when it comes to this and other relevant data," O'Sullivan says. "It will include things like coming up with ways to define and measure wait times at security lines in a consistent way so we can provide the right data at the right time to passengers."
Once that is in place, the goal is to help travelers better visualize the information that can be delivered with the help of Bluetooth beacons. Instead of just a text list of location or itinerary, SITA wants "to give passengers a rich experience of apps providing a guide about where to go using up-to-date itinerary data from airlines and operational data from airports, with map information to help visualize their journey," O'Sullivan says. "That's a great experience to offer distressed passengers, providing reassuring information so they don't have to stand under a screen for an hour waiting for updates and running to the gate because they don't know how far away it is."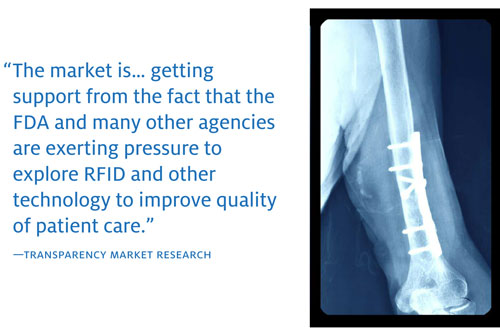 An airline could also use beacon technology to improve workforce operations, by, for example, combining operational data with maps and task assignments to send the employee closest to an available wheelchair to a gate where a passenger needs service. "It can optimize how you allocate those tasks and assist passengers, as well as deliver cost savings and provide more efficient use of staff," O'Sullivan says. "Those in airport operations control are in a complicated area, so it's a great way to try to give them a better understanding of what happens on the ground."
The SITA Registry, Miami International Airport's Jenkins said, "makes it simple for us to collaborate with our partners, both domestic and international, and let them take advantage of this new technology, too."
McCarran Airport hasn't installed Bluetooth beacons yet, but, Ingalls says, "We are keeping our finger very closely on the pulse and thinking of various possibilities and applications of that technology." There's great potential, he adds, but the airport is still looking for the real killer app that's going to deliver a significant business and customer service benefit.
Meantime, he's pleased the foundations are in place for RFID technology to have an even bigger impact on air travel in the coming years. "I think the accuracy benefits and data benefits of having all the data points on the bags and the realistic possibility of not even needing to have a consumable-type tag, which takes the cost down considerably, are all coming together." he says. "And it's happening in a fashion that really makes me think that RFID is primed for takeoff now."
Major Airline Preps for Baggage-Tracking Initiative
Many RFID baggage-tracking solutions use cellular networks for communication between RFID readers and an airline's database. An airport's Wi-Fi system operates at check-in counters and bag rooms, whereas a cellular network can reach other transfer points, conveyer belts and tarmacs.
A major (as yet-undisclosed) airline preparing for a baggage-tracking initiative asked telecom solutions vendor PCTEL to determine which cellular network offered the best coverage. PCTEL recently completed network testing at more than 300 domestic and international airports.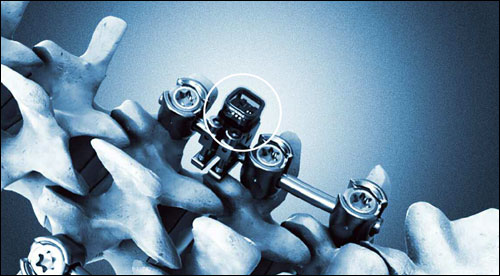 At each airport, the effort involved using RFID interrogators to read an RFID-tagged bag at various points from check-in to holding rooms to tarmac, testing two tier-one carriers' 3G and 4G networks at each site. (PCTEL isn't free to name them publicly.) At the end of the testing, which involved measuring data-transfer speed, signal quality, strength and reliability, PCTEL was able to recommend to the airline the best carriers and technology to program the RFID readers at each airport, says Jay Maciejewski, PCTEL's VP of business development, engineering services.
In a large airport, the nearest cell tower could be far away, Maciejewski says. Many of the gaps in coverage that were identified exist in the bowels of the airports, in the baggage-handling and luggage-transfer areas. Extremely large airports also can have issues reading luggage on the tarmac, the last point before it enters the plane.
"The terminals we walk through are primarily covered very well, but that's not where all the bag-tracking action happens," Maciejewski says. "A gap as small as a couple of hundred yards underneath the airport where bag transfers occur can be critical when it comes to RFID reads."
Airlines that test cellular coverage could share the information with the various carriers, Maciejewski says. Then, to vie for an airline's business at an airport, some carriers might consider putting in a small cell tower at their own expense.