Aug 04, 2019Increasingly, products are being made available for sale through e-commerce and by companies with little to no relationship with manufacturers. This conclusion was presented by Michael Elias, the chief revenue officer of Evrythng, at the recent AIPIA Summit China conference. Elias explained that, more than the already important gains in asset tracking, anticounterfeiting, sustainability and customer experience improvement, investing in smart and intelligent packaging means regaining the power of the manufacturer.
Elias cited sales at Amazon and Alibaba as examples of challenges facing manufacturers looking to bond with their customers. "Regardless of the media used to attract customers and make sales," he told attendees, "maintaining a direct, active and online channel of communication with the consumer must be an effort to be conquered through the packaging itself. You can't waste the power of packaging, especially since it's already in the hands of the consumer."
This was one of the keynote addresses presented on the first day of AIPIA Summit China, hosted by the Active & Intelligent Packaging Association (AIPIA) in Shanghai. Another point raised at the event: rather than offering information technology and solutions, supplier companies need to create comprehensive platforms to meet their customers' diverse needs.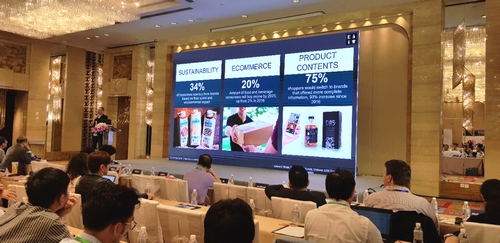 Those who think smartphone use occurs at an advanced level in Brazil, Japan, the United States and Europe might want to think again. In China, especially in Shanghai, consumers pay for products, as well as rides on subways and buses, via QR codes associated with WeChat, a Whatsapp-like app installed on their smartphones. (The Chinese government blocks access to Google, Facebook, Whatsapp and other frequently used online services in the West.)
According to Takasuke Ishitani, the president of the Japan Food Packaging Association, one cause of smartphone use in place of paper money and coins in China is the prevalence of counterfeiting in that country. "A smartphone purchase is 100 percent guaranteed to have been completed with valid features, unlike cash transactions," he explains. Ishitani says cash transactions in Japan tend to be larger than those performed by smartphone.
In line with business needs coming at the forefront of technology is Toppan, a company based in Japan. The firm is less concerned with technology as it is focused on business results, as it looks to improve contact with consumers and their experiences, as well as combat counterfeiting. One of the company's customers is employing Near Field Communication (NFC) RFID technologies to prevent counterfeiting: French Echézeaux wine.
Amcor, a packaging company founded in 1860, presented solutions utilizing such technologies as RFID, QR codes and digital printing, to assist companies in the marketplace that are looking to strengthen e-commerce and their brands. "We cannot disregard the power that e-commerce has been gaining," said Zhu Taobo, Amcor's director of business development. According to Taobo, packaging can be used to increase buyer traffic on the websites of the companies that manufacture products. "We are not a company specializing in RFID or QR codes, but we offer business solutions including data services."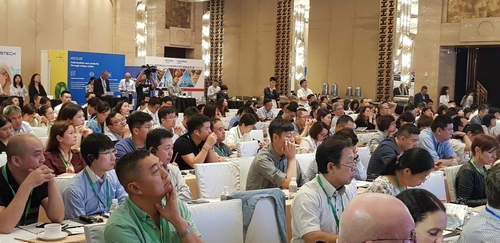 Systech presented a solution that recognizes differences in the printing of each barcode and uses it as a way to generate an individual identification for each unit of the same product (or stock-keeping unit). The appeal of the solution is in the cost, according to Joe Belenardo, the firm's VP of worldwide sales. "Imagine changing everything without changing anything," he told attendees, as using the same barcodes already in place makes it possible to individually identify each product.
In addition, a company called Kezzler demonstrated its accumulated experience with billions of traceable products worldwide, using its RFID- and NFC-based technologies.
RFID dominated all of the lectures on the second day of the AIPIA Summit China, including UHF and Near Field Communication (NFC) RFID solutions for the packaging market. Stora Enso opened the day by talking about the global need to control products, as well as to dispose of packaging for sustainability reasons.
That topic was also addressed by a speaker from NXP Semiconductors, who noted that concern is growing among brand owners. The conclusion was that packaging is a powerful communication tool and that new technologies are opening up the possibility of upgrading the end-customer relationship through physical products. This has more to do with good technology use ideas and less with technology alone.
Mondelez, for example, has concerns about improving relationships with its customers, as well as making sure that packaging doesn't turn out to be potentially negative trash for cookie, chocolate, candy, beverage and gum brands. "We are looking for technologies that can make our packaging good channels of communication with customers," said Kang Yufei, a Mondelez engineer, at the event.
Elias reported that locating, tracking and combating counterfeiting are just common uses of the technology, but there is much more to do. In the following video, Elias discusses how to use packaging as media channels.
In addition to communicating well and proactively, packaging can also help conserve products by reacting to changes in the environment or the sensitivity of the substances contained within. In the following video, Ishitani explains the difference between smart and active packaging: