Sep 22, 2019Patients admitted into the emergency department of St. Joseph Hospital, located in Orange, Calif., are being served faster on average, and fewer are leaving without being seen, thanks to a real-time location system (RTLS) that tracks the movements of both patients and healthcare providers. The solution employs a management solution provided by healthcare technology solutions company Tagnos, with RTLS wristbands and receivers—both supplied by CenTrak—installed throughout the emergency department and related screening and care areas.
The hospital is able to capture, view and create analytics around the locations of patients as they move through the treatment process, as well as the locations and statuses of healthcare providers. After using the technology for a year, the hospital reports that it has ensured more patients are seen at a timelier rate. St. Joseph Hospital of Orange is one of 51 Providence St. Joseph Health facilities, part of the third largest not-for-profit hospital system in the United States. It offers 75 specialty programs and has a busy ER that treats more than 82,000 patients annually.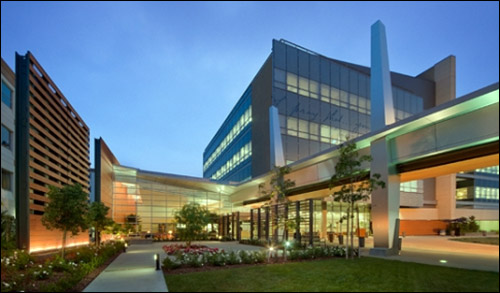 Emergency departments, by nature, have a chaotic environment, says Neeraj Bhavani, Tagnos's CEO, which makes it difficult to provide consistent, rapid care while also ensuring the safety of patients and staff members. Tagnos has built a solution for EDs that he says is intended to provide real-time alerting in a targeted way, to bring order to the department without sounding alarms or creating distractions that could add stress to such an environment. The company indicates its solution is aimed at silently capturing location data and providing that information to users, only when they want it, thereby improving the hospital's operations.
Before implementing the RTLS technology, St. Joseph Hospital was challenged with the generally unpredictable nature of patient flow. "We struggled with the same throughput issues most large-volume EDs struggle with," says Glenn Raup, St. Joseph Hospital's executive director of emergency services. Those challenges included better understanding door-to-discharge and door-to-hospital-admission times.
The system is intended to address other process issues as well, such as measuring the amount of time between a patient's assignment to an examination room and the arrival of a healthcare provider, the time between that patient's admission and discharge, and the time between the provider's visit and the patient's discharge. "These process time challenges ultimately, in turn, impact overall quality outcome measures," Raup says, such as patient satisfaction and treatment times for the most urgent cases: stroke or heart attack patients, as well as those suffering from sepsis.
Because of the emergency department's size and community mission, the hospital receives a significant volume of homeless and psychiatric patients, for whom treatment can be more unpredictable. To better manage patient flow and ensure those with mental health issues can be properly managed, the facility began looking into automation technology. "We started our journey through the vetting and investigation process in late 2017," Raup recalls. The hospital chose the Tagnos solution in December of that year and the system was taken live in June 2018.
With the RTLS solution in place, each new patient is assessed and admitted into the ED, and a record is created in the Tagnos software, which resides on the hospital's server. That record includes the patient's identity and health issues. He or she receives a CenTrak RTLS wristband with a unique ID number encoded on it that is linked to that person's information.

The bracelet beacons its ID at regular intervals to CenTrak Second Generation Infrared (Gen2IR) receivers installed around the emergency department, the radiology and laboratory departments, and other screening and care areas where ED patients flow. In that way, the software begins receiving data from the patients as soon as they arrive and can track their movements until they are discharged or admitted to the hospital.
Each caregiver, including nurses, doctors and technicians, is also assigned a badge that comes with a CenTrak Gen2IR tag that transmits signals to the same receivers. Each badge is linked to a particular caregiver's own ID so that the system can monitor where individuals go, when they are with a patient and that patient's identity. "All the times patients spend in each segment of the care process can be monitored, analyzed and used to help make adjustments to the care process," Raup states. The goal, he says, is "always decreasing the time it takes to move a patient from arrival to completion."
The system provides the hospital with real-time access to data indicating where a given patient is and his or her status, such as waiting for a doctor or test results, or being discharged. It can also issue alerts, Raup says, which he calls one of the technology's best features. "We can send alerts to selected caregivers based on the type of patient they are and how long they have spent in a particular phase of care." That could mean alerting personnel when an EKG is needed or the next care activity of a sepsis bundle of care should begin. Caregivers can then redistribute their workload to ensure that the testing is performed quickly.
The system is designed to do more than merely track patient flow, however. Hospitals tend to initially deploy the technology to manage where patients are located, Bhavani says, but the solution enables more expansive applications, such as capturing analytics about performance over time. With the technology, the hospital can use desktop computers to view which patients are in which area, in real time.
If an individual spends more time than expected at any given location, the system can issue alerts to authorized personnel. Management can view patient flow data through the dashboard, Bhavani says, and can thus understand scenarios such as "'[These are] the patients in a waiting area, the ones at triage, those waiting for a bed, or in the bed in the room, waiting for radiology, waiting for lab results.' All these stages of patient flow we're able to show them in real time."

Such alerts can be displayed quietly on the desktop to be viewed when the caregivers are ready, so as not to create further stress for them. In fact, the solution is designed to automatically measure treatment and wait times, but the alerts are intended to be focused and non-disruptive. "They want to receive information when they want to see it," Bhavani states.
Since the system was taken live at St. Joseph Hospital, Raup reports, the facility has boosted its room turnover rate. "This is perhaps one of the most challenging indicators that EDs struggle with," he says, adding that turnover rates and bottlenecks have been historically difficult to track, "since there are many variables that can impact this time."
In using the Tagnos system, the hospital has been able to create a baseline for patient care. As such, it can now monitor actual throughput in real time and analyze the results, then share that data with employees and managers. In that way, Raup says, the hospital has been able to "make small changes and track the impact on these changes to continue to decrease the room turnover times." This has led to improvements in two areas, he adds: cost savings in labor management and the ability to see more patients. "We quantified these two indicators alone to show the dramatic return on investment using the Tagnos system."
In the future, Raup says, the hospital hopes to expand its use of the technology. "First, we want to modify it to integrate the data with our electronic medical record," he states. The first year of deployment has served as a pilot, he explains. "Now that it has shown to be a success, we want to fully integrate it with our EMR to provide greater data showing the impact of process times on a variety of safety and care outcomes." The hospital also wants to use the technology in non-ER in-patient areas, and to capture other diagnostics at locations such as the heart catheterization lab and operative services. "We can see how any delays or challenges upstream in the care process (in-patient) impact and create delays downstream in the care process (the ED)."
Tagnos's software can also offer traffic predictions to optimize staffing, the technology company explains. The feature, known as Prediction of Patient Census, allows hospitals to better identify and predict how many employees they will require on a specific day, based on historical data related to similar dates and conditions. The data collected can prompt text messages to charge nurses to optimize staffing levels by requesting additional or fewer workers with only a four-hour notice.
In the future, the solution is expected to include behavior tracking, enabling the hospital to identify when a patient may need to be checked based on his or her activity. With the wristband, a person's location and movement is tracked in real time. Therefore, if the system detects that a patient is pacing, is making sudden movements or has abruptly ceased moving, the facility can receive an alert to check on that individual. "That's work in progress," Bhavani says. The technology is already capable of doing that, he notes, but it will be made available to customers in the coming year.