Oct 10, 2016Maille, a purveyor of specialty mustards, is planning to launch an RFID-based solution at its stores in Paris and New York, enabling customers to digitally record their favorite products. The system has already been implemented at Maille's London location to allow patrons to use an RFID-tagged spoon to indicate the flavors of mustard they sampled and liked during their visit. Maille can present each patron with a record of those products he or she favored, and thereby create customer engagement that lasts after that individual leaves the store.
The system, designed by U.K.-based creative agency Mr. President, has been up and running at the Maille boutique, in London's Piccadilly Arcade, since May 2015. The dates of the deployments in Paris and New York have not yet been decided, says Laura Jordan-Bambach, a creative partner at Mr. President. (Maille did not respond to requests for comment.)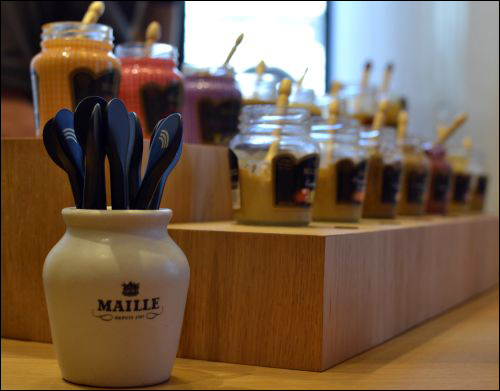 Approximately 70,000 shoppers visit Maille's London store every year (200 each day), many of whom are tourists from other parts of the country or from around the world. But engagement with those customers typically ends once they leave the site. After sampling different flavors and making their purchases, they might never have the opportunity to return to a Maille dedicated store again. So Unilever, Maille's parent company, worked with Mr. President and production company Hirsch & Mann to develop a way to create a link between customers and the mustard brand that would last beyond a shopper's store visit.
The solution, Jordan-Bambach says, features wooden mustard spoons with integrated Sparkfun SEN 09417 passive 125 kHz RFID tags. The circular tags measure 16 millimeters (0.63 inch) in diameter and 1.85 millimeters (0.07 inch) in thickness—small enough to be embedded in a spoon without being perceptible to users. The memory of each tag's EM Microelectronic EM4001 chip is encoded with a unique ID number.
Upon arriving at the boutique, customers first help themselves to an RFID-enabled Discovery Spoon, then make their way around the tasting counter, where they can try out 15 different mustard flavors. At the base of the jar for each of the 15 flavors, a Sparkfun Innovations ID-12LA reader was installed. Printed signage invites customers to tap their Discovery Spoon to the reader antenna in front of each flavor they enjoy. The system beeps and flashes a light to confirm that a particular spoon's ID has been captured, then records that shopper's chosen flavors and links that data with his Discovery Spoon's tag ID.
Once the shopper has finished sampling the various products, he places the Discovery Spoon into a Discovery Jar, where an Innovations ID-20LA reader captures that tag's ID. On the touchscreen of a nearby Apple iPad, the software displays data specific to which flavors have been selected, including product information and reviews.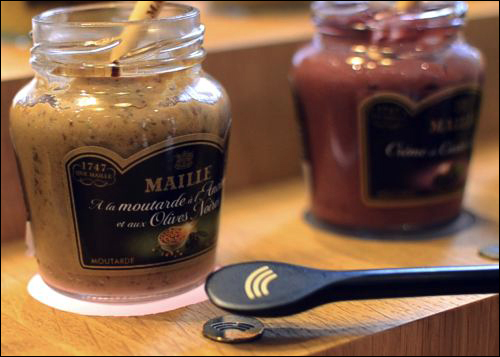 "You then proceed [on the touchscreen] to a form where you can email your list of favorites to yourself," Jordan-Bambach says. Each customer's e-mail address is linked to that individual's preferences, allowing the visitor to shop for his or her favorite products online at a later time. The system also prints a paper receipt for the customer to take home.
"The idea of the Discovery Spoons is to help customers remember their favorite flavors from the boutique," Jordan-Bambach explains, "and allow them to buy them online later."
Before the Discovery Spoons were implemented, Maille found that customers who visited the boutique would taste numerous flavors and then purchase a jar of one of their favorites. However, Jordan-Bambach says, after leaving the store, they often forgot all of the other flavors they sampled. "Our spoons have helped in connecting Maille's in-store customers to the online world of Maille," she states. "and given them a reason to shop online."
In addition, the mustard brand found that since the solution's installation, shoppers have been spending 8 percent more in the store than they did without the RFID-enabled spoons. This may be because the system displays their preferences for them before they leave the premises, thus making it easy to locate the products they had sampled and enjoyed.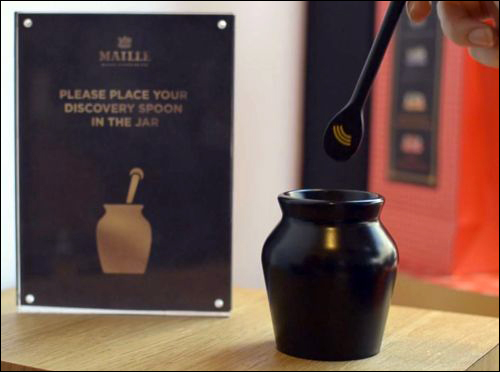 Data is stored on Mr. President's management software hosted on a local server (a Mac mini) and is then forwarded in batches once daily to cloud-based Salesforce Marketing Cloud software. Maille uses information regarding customer preferences to help it develop products and understand shopping behaviors.
In addition, Mr. President has worked on a project for vodka company Grey Goose. For the project, Mr. President created a Near Field Communication (NFC)-enabled silver goose fob small enough to fit on a key chain. Consumers can use the fobs as loyalty tokens for Grey Goose specials at select bars, and to store information about their favorite cocktails. These consumers were members of Le Club Goose, a "secret society" in which members are identified by the silver goose.