Dec 08, 2019Throughout Europe, radio frequency identification technologies are being deployed at large, midsize and small companies to improve efficiencies, enhance visibility, reduce shrinkage and achieve other business benefits. This year's RFID Journal LIVE! Europe conference and exhibition, held on Nov. 13 in London, England, focused on educating end users in retail and other sectors about how RFID is benefiting companies in a variety of industries across the continent. Two hundred attendees were at this year's event.
LIVE! Europe is designed to help companies consider using RFID technologies to address real business challenges, determine the best RFID technology for their needs, find the right technology partners and move forward with deployment. The conference began with opening remarks and general sessions, then divided into two tracks. The Main Track covered a variety of applications relevant to companies in supply chain, manufacturing, logistics and other industries, while the Retail Track included case studies offered by retailers currently benefiting from RFID solutions. Topics included how RFID, Internet of Things (IoT) and related technologies can provide supply chain visibility, improved inventory accuracy, increased security, a reduction in counterfeiting and greater operational efficiency.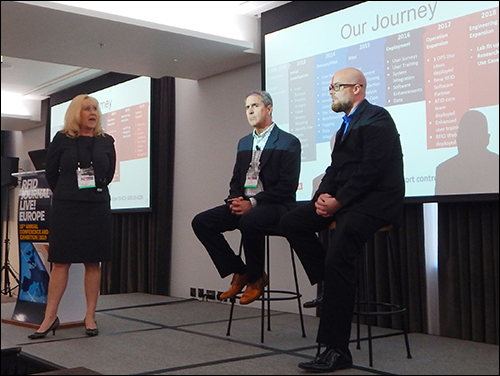 Recordings of the event's speaker presentations are now available in RFID Journal's online video library. Links to videos of the presentations are provided below and on the following pages, along with PDFs of the slides used in those presentations. Not all speakers have granted permission to have their presentations and/or slides archived.
Please note that you need to be logged into RFIDJournal.com to view the presentations and recordings. If you do not have a membership to RFIDJournal.com, you will need to create one to access the presentations. All conference attendees and holders of training passes have been granted a free subscription to RFID Journal. If you purchased a pass that does not entitle you to the presentations, you can procure a Premium Membership in order to access them.
The day before the events, attendees were invited to attend Fast-Track RFID Institute Certified Associate Training. This advanced one-day course, presented by RFID4U, covered the latest equipment and relevant RFID deployment scenarios; provided a solid foundation to design, install, configure, monitor and troubleshoot an RFID deployment; and prepared participants to take the RFID Institute Certified Associate exam. The course combined lectures and hands-on lab exercises, providing a functional understanding of the use of RFID readers, tags, printers and general-purpose input-output devices, and each participant received a voucher to take the exam online.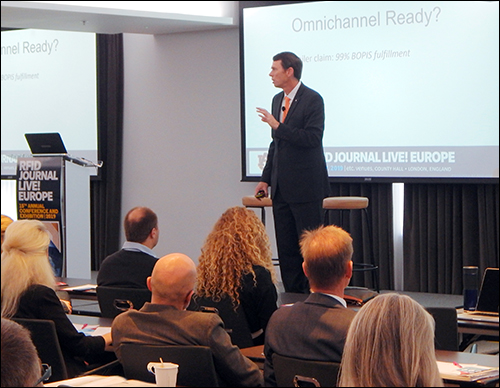 GENERAL SESSIONS
BAE Systems Improves Manufacturing and Inventory Capability With RFID
Presenters: Deirdre Schmidt, Operations Excellence Leader, BAE Systems; Peter Wright, Project Engineering Manager, BAE Systems; Philip Whiting, Operations Program Specialists, BAE Systems
» Download the PDF.
» View the video.
Can Retailers Be Omnichannel-Ready Without RFID?
Presenter: Dr. Bill Hardgrave, Provost and VP, Auburn University
» Download the PDF.
» View the video.
MAIN TRACK
RFID Makes Cable Talk
Presenter: Birger Hodt, Innovation Manager for Northern Europe, Prysmian Group
» Download the PDF.
» View the video.
Unlocking Value in the Pulp Supply Chain With RAIN RFID
Sponsored by Stora Enso
Presenter: Sten Neumann, Director of Sales and Business Development, Stora Enso
» Download the PDF.
» View the video.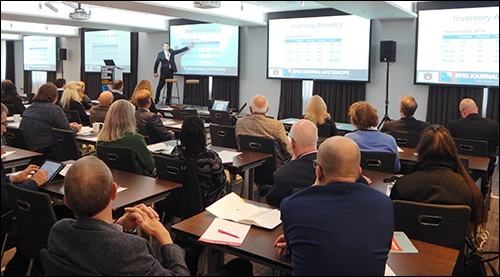 Beyond Inventory Management: RFID in Visual Merchandising
Presenter: Dr. Antonio Rizzi, Full Professor—Industrial Logistics and Supply Chain Management, University of Parma
What's Next for RFID in Retail?
Sponsored by Detego
Presenter: Luke Sinclair, Marketing Manager, Detego
» Download the PDF.
» View the video.
Unique World-Leading 99%+ Accurate Passive RFID Solutions
Sponsored by PervasID
Presenter: Dr. Sabesan Sithamparanathan, Founder and CEO, PervasID
» Download the PDF.

RFID on RTIs: Supply Chain Transparency Builds an Active World Based on Passive Tags
Presenter: Léonard Smits, Business-Development and Legal Counsel, Container Centralen
» Download the PDF.
» View the video.
Lockheed Martin Advances the Flightline of the Future Through Asset Visibility
Presenter: Corey Cook, Senior Solutions Architect, Enterprise Sustainment Solutions, Lockheed Martin
» Download the PDF.
» View the video.
Budweiser Budvar Improves Asset Tracking With RTLS
Presenter: Martin Komorny, Primary Distribution Manager, Budweiser Budvar
» Download the PDF.
» View the video.
Creating Business Value by Enabling the Internet of Things
Presenter: Mark Roberti, Founder and Editor, RFID Journal
» Download the PDF.
» View the video.
RETAIL TRACK
Pinea Wine Uses NFC to Engage Customers
Presenters: Hugo del Pozo and Vicente Pliego, Co-founders, Pinea Wine
» Download the PDF.
» View the video.
Value Creation With RFID: Retailer Use Cases to Uncover Important Opportunities
Presenters: Francesco Fantoni Guerci, CEO, ID-Solutions; Grethe Bonde, Marketing Manager, ID-Solutions
» Download the PDF.
» View the video.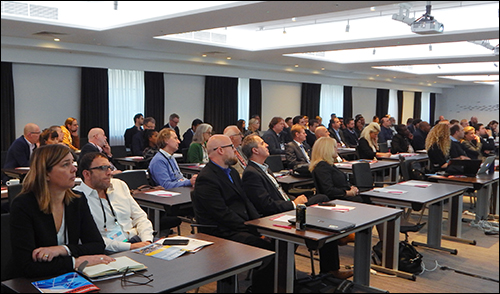 Sporting Goods Retailer Scores Inventory Accuracy Gains With RFID
Presenter: Johan Stenstrom, Supply Chain Developer, Stadium AB
» Download the PDF.
» View the video.
The Next Level of Real-Time Intelligence
Sponsored by Avery Dennison
Presenter: Uwe Hennig, Market Development Director for EMEA, Intelligent Labels—Apparel, Avery Dennison
Marks & Spencer Explores New RFID Uses
Presenters: Richard Jenkins, Head of Loss Prevention, Security and RFID, Marks & Spencer; Zarah Adato, Project Manager, RFID Strategic Development, Marks & Spencer
» Download the PDF.
» View the video.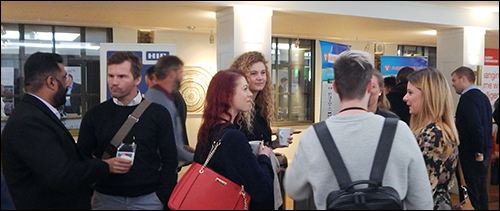 America Today Increases Inventory Accuracy by 20 Percent With RFID
Presenters: Charlotte den Heijer, Merchandise Planner, America Today; Robert-Jan Haitink, Supply Chain Manager, America Today
» Download the PDF.
» View the video.
Building Brands In-store With the Internet of Things
Presenter: Cameron Worth, Founder and CEO, SharpEnd
» Download the PDF.
» View the video.
Project Zipper: Phase Two
Presenter: Justin Patton, Director, RFID Center, Auburn University
» Download the PDF.
» View the video.
The next RFID Journal event will be RFID Journal LIVE! 2020, the world's largest and most important event focused on radio frequency identification and related technologies. LIVE! 2020, to be held in Orlando, Fla., will feature more than 200 exhibitors from 26 countries. The conference program will offer more than 100 sessions, including more than 50 new end-user case studies. The agenda will comprise tracks covering RFID deployments in retail, manufacturing, health care and other industries, as well as technical tracks, plus certification training.
Visit RFID Journal's events page for information regarding other upcoming conferences.