Aug 06, 2012Sun TV Network has grown into becoming India's largest television network, with 33 news and entertainment channels, as well as 45 FM radio stations broadcast in several Indian languages. The company also operates five print-media publications, in addition to a film production and marketing entity.
When Sun TV was planning its new headquarters in the city of Chennai—construction of the 11-story facility began during the first quarter of 2010—company officials envisioned employing radio frequency identification technology to track a variety of assets within the building, as well as vehicles moving into and out of the facility's parking garage. They had researched RFID for several years, and had determined it provided a significant advantage over bar codes and other technologies, since RFID does not require physical contact or line-of-sight between readers and tags.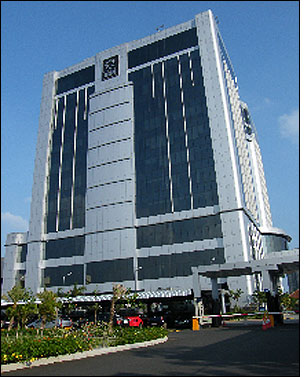 Sun TV had made huge investments in expensive technical assets, including broadcasting equipment, editing systems and high-quality cameras and accessories—all told, the firm owns approximately 10,000 assets, valued at roughly $100 million. In addition to monitoring the whereabouts of equipment moving through various departments and subsidiaries within the building, and to and from external locations, the company sought to keep tabs on how the assets were being used.
In addition, Sun TV wanted to accelerate its ability to search for and retrieve digital content. It maintains a growing library of more than 75,000 recording media, says S. Kannan, the CTO of holding company Sun Group of Companies, and being able to search the library for specific content and physically retrieve the media is critical for its business. Sun TV had used a manual process, based on Microsoft Excel spreadsheets, to track the locations of particular media, but this approach was too slow for its needs. At the same time, the firm wanted to be able to secure access to its digital media, control their movement within designated zones and track their whereabouts at all times.
Finally, Sun TV was looking to secure and streamline the movements of more than 200 vehicles that travel into and out of its parking facility daily. The company wanted to prevent unauthorized vehicles from entering its premises, and to automate the authorization of vehicles to access designated parking zones.

Planning and Testing
As the building was being constructed, Sun TV formed a partnership with
TAKE Solutions
, an Indian company specializing in providing innovative RFID systems. "We worked together to evaluate available alternatives to ensure the selected solution would work best for our business before rolling it out in a
phased
manner," Kannan explains.
Sun TV set up a cross-functional team that included representatives from internal user groups, the IT department and TAKE Solutions. This team, headed by Kannan, worked under the guidance of Sun TV's executive committee.


To identify and track assets and media, TAKE Solutions assembled a solution including a variety of Confidex ultrahigh-frequency tags (Carrier, Casey and Steelwave Micro), and Motorola XR480 fixed readers and AN480 antennas (four for each interrogator). The solution also included Motorola MC9090-G handheld readers to process transactions, search for digital content and track access to media. RFID portal anti-theft gates provided by Industrial Portals, a division of Jamison Door Co., were chosen to secure access to assets. To track vehicles, TAKE Solutions selected active tags and readers from Nedap AVI.
Sun TV and TAKE Solutions performed a series of lab tests lasting three months, to decide which tags would be best for each type of asset, and to determine acceptable read ranges. One of the greatest challenges facing the entire project, Kannan notes, involved deciding which tag was best for each type of equipment and media, and where the tag should be placed, based on each item's size, shape and material.
The tests included mock simulations of the actual processes that would be used. During this time, Sun TV and TAKE Solutions performed necessary adjustments. For example, the Steelwave Micro tags used for technical equipment had a read range that proved to be less than anticipated. To improve that range, the partners padded the tags with double-sided 3M stickers, to provide air space between tag and asset. Test results were presented to the cross-functional team and the executive committee.

A Four-Phase Implementation
The RFID solution was rolled out over a 10-month period, beginning in October 2010. During the first
phase
, while the building was being constructed, technicians determined the ideal locations for fixed readers.
The second phase, which took nearly five months, concerned the installation and configuration of RFID equipment—a large operation that involved electricians, the IT department, the RFID solution team and other vendors. Technicians installed 36 fixed readers above the ceiling at all entrances on every floor of the building. "This ensures [tracking] the movement of all the tagged assets within the building," Kannan says.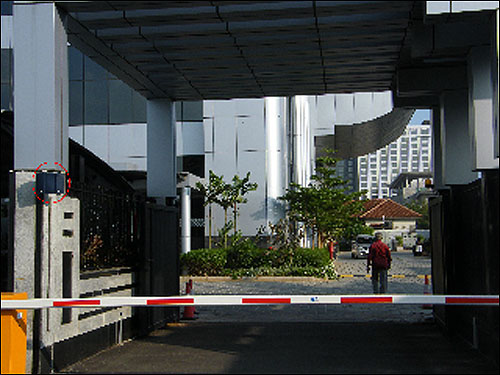 RFID portals were installed at the facility's ground-floor employee and visitor entrances, to track the movements of tagged assets being taken into and out of the building.
To monitor vehicular movements, technicians installed 11 long-range readers at each gate within the building's parking areas. The interrogators were mounted on walls facing the entrance and exit pathways at gates.
As part of the second phase, Sun TV conducted a field trial of RFID equipment. Samples of various assets were tagged, in order to confirm how tags would be placed on each type of equipment. The company identified the exact location at which to tag an authorized vehicle—above its dashboard—and determined the tag should be fixed and sealed via adhesive tape, to avoid tampering. Technicians monitored handheld devices to understand how they could best be used to obtain acceptable reads.
During the third phase, the technicians installed TAKE Solutions' Asset Management System (TAMS) software, a Web- and mobility-based application for managing and tracking assets. It was customized to manage all of Sun TV's processes involving the RFID systems, Kannan says—the complete lifecycle, from the registration and tagging of assets to their decommissioning.

The application features a console that continuously displays the movements of assets captured, from all 36 fixed readers. "Any unauthorized movements are highlighted for better visibility, [and] to take immediate action," Kannan states.
Captured data is processed to identify both authorized and unauthorized asset movements. "While alerts are triggered for any unauthorized movements," Kannan says, "the other set of data is used to produce different kinds of management analysis and reports," such as asset utilization and notifications regarding misplaced items, including equipment being moved to different floors without appropriate authorization.


Also during this phase, Sun TV tagged all of its assets, and uploaded information about those items into a Microsoft SQL Server 2008 database.
In the final phase, Kannan says, technicians monitored the implementation to bring it into steady-state. Sun TV provided extensive training to multiple user groups throughout the organization, so they could become familiar with the new processes.
One key technical challenge Sun TV had to address, once the system was operational, was that readers deployed at checkpoints began generating enormous volumes of data. The company installed and configured Microsoft's BizTalk messaging server to filter and validate records before they are sent to the database.

On the Air
The full implementation was taken live during the first quarter of last year. Sun TV declines to reveal how much the system cost to implement, or to provide information about its return on investment, but reports that it has seen a number of benefits.
Among these benefits is a 25 percent improvement in the availability of equipment, and a corresponding 25 percent increase in asset utilization. Reliable traceability of assets now ensures the items can be assigned to users and immediately be put to use, thereby confirming that no time is lost while physically transferring the custody of assets.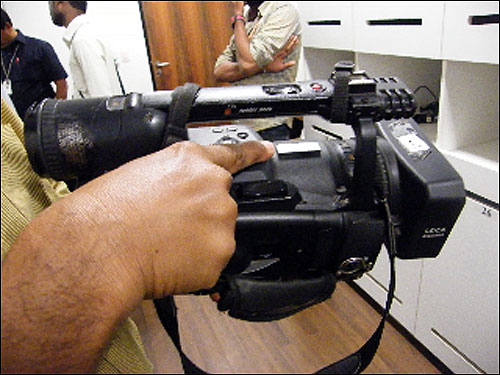 What's more, Sun TV reports a 30 percent reduction in the request-to-issue cycle time for equipment and digital media, since items are now easier to locate. The company has also decreased its operating costs for managing vehicular traffic by 60 percent, through the reduction of security staff and related overhead.
Sun TV's process of auditing and reconciling assets can now be conducted without disrupting operations, and the time necessary to perform this process has been reduced from one week down to six hours. In the past, the company carried out manual, paper-based audits once or twice annually—which, Kannan says, was a laborious task considering there are some 10,000 equipment assets and 75,000 media assets. "With the current scenario using RFID," he states, "audits can be initiated for any location, and the whereabouts of assets are immediately known."
Prior to the RFID implementation, Sun TV had logged all equipment purchases in bulk in the purchasing application of its SAP enterprise resource planning (ERP) platform. Now, Kannan says, all new assets are tagged and registered in an asset-management group. All relevant details of individual items are captured, and each asset's lifecycle is initiated.

The company intends to integrate the TAMS application with its ERP platform, to better link its asset purchase order application with the RFID tracking system. This, the company reports, would seamlessly integrate the purchase process with the assets' commissioning and use.
In the future, Kannan says, Sun TV would like to integrate the RFID solution with various subsystems within the building, such as the heating, ventilating and air conditioning (HVAC) systems, to better coordinate control. It could also manage the elevator system, so when the RFID tag in a senior executive's vehicle is read, for example, a car would be routed to the ground floor.


Based on its initial success at the headquarters building, Sun TV is also considering implementing similar systems at its regional offices in India.
"Successful deployment of RFID and related technologies has improved some of the firm's core processes related to securing and management of high-value assets, like digital content and [broadcasting] equipment," Kannan says. "In addition, we have been able to bring about productivity improvements and cost savings. The success of this project shows that RFID technology has matured into a viable solution for business."