Oct 01, 2012Greece is tottering, Spain is worried, Italy is hoping for the best and Germany is looking for solutions. Europe is facing difficult financial times, to say the least. Yet, as politicians ponder their options, bankers seek relief and investors search for new possibilities, the radio frequency identification industry is defying financial gravity by helping European customers operate leaner, more productively and with greater insight into key business operations. During a time when money is scarce and people are scared, RFID stands as a beacon of hope and progress.
"The European RFID market is currently growing, and the market outlook looks positive," says Ram Ravi, a senior RFID analyst at Frost & Sullivan, a technology research firm headquartered in San Antonio, Texas. "The future of RFID in Europe looks good." Frost & Sullivan estimates that the European RFID market hovered at around $1.2 billion to $1.5 billion in 2011 and will likely surge to between $3.7 billion and $4 billion by 2018.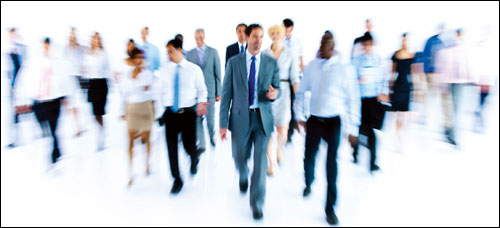 RFID's ability to boost productivity while lowering costs continues to attract new adopters in Europe, even at a time when money is extremely tight, says Michael Liard, RFID analysis director at VDC Research, a technology insights company based in Natick, Mass. He notes that more European businesses are starting to view RFID as an immediately available solution rather than as a promising technology. "I think the story that needs to be told now... is the value RFID can bring to operations and the cost savings it can deliver," he says. "It is about business process and operational performance improvements before it is about technology change."
Several years ago, the European Union and nations across Europe directly financed a variety of initiatives designed to encourage RFID use in a wide range of vertical markets.
Beginning in 2006, the EU-funded BRIDGE (Building Radio Frequency IDentification for the Global Environment) initiative tackled the tough job of creating a technology base that could be shared efficiently across business sectors. In its final 2009 report, BRIDGE Coordinator Henri Barthel writes: "The business work packages identified the opportunities, established the business cases and performed trials and implementation in various sectors including anti-counterfeiting, pharmaceuticals, textile, manufacturing re-usable assets, products in service and retail non-food items."
Government assistance helped Gerry Weber International, a major European fashion retailer, headquartered in Westphalia, Germany, gain experience with RFID technology. After completing an initial project with Metro Group, another major German retailer, Gerry Weber joined a government-backed venture. "The breakthrough was an... R&D project named Ko-RFID, together with three universities and some industry partners starting in 2006," says Christian von Grone, CIO of Gerry Weber. The Ko-RFID R&D project was funded partially by the German Federal Ministry for Economics and Technology.
Ko-RFID—which stands for Collaboration and RFID—was one of 11 projects that were part of the German government's larger Next-Generation Media program, which comprises some 70 participating companies and research organizations. The project, which ran through 2009, addressed the challenges businesses face when sharing information collected via RFID. "Some government support was helpful to establish the base technology standards in the past," Grone acknowledges.
Today, Gerry Weber uses RFID to track individual clothing items from point of manufacture to point of sale. The company is currently RFID-tracking approximately 20 percent of the 25 million items it produces annually. The results have been impressive, Grone says. "We've increased our logistics productivity by 24 percent," he notes. There have been other benefits, too. "We see huge savings on EAS [electric article surveillance] and time savings on goods-in in our stores," he says. "We expect to see a 2 percent to 3 percent increase in turnover because of improved replenishment after one full fiscal year of operation with the new [RFID] process."
But now, due to the euro crisis and an ongoing worldwide financial slump, government funding—and, to some extent, government enthusiasm—for new initiatives has mostly dried up. While prospects for a new series of government-sponsored RFID projects appear bleak, many industry observers and players feel the situation isn't nearly as catastrophic as it might have been had funding disappeared several years ago. "These programs were crucial when no one knew about the technology," says Francisco Melo, VP of global inventory accuracy and loss prevention at Avery Dennison's retail branding and information services unit in Watford, U.K. "They're not as crucial now, because on one hand the technology has evolved, and on the other hand the technology is now known."
Challenging economic conditions and fewer government-funded initiatives are of little consequence to RFID's future in Europe, Frost & Sullivan's Ravi says. "The economic condition is actually bad, but [that won't] have too much of an impact on the RFID market in Europe," he notes, adding that retail businesses are the largest RFID adopters in Europe and are able to weather economic downturns better than enterprises in many other fields. "Despite current economic conditions, people do not stop buying essentials such as clothes, food and beverages," he explains.
Adidas, for instance, is deploying RFID at its youth-oriented Adidas NEO stores in Germany, Ravi notes. In Portugal, fashion retailer Throttleman is planning to roll out RFID in its stores.
"RFID is starting to explode—it's starting to be widely adopted by retailers," says Ramir De Porrata-Doria, CEO of Keonn Technologies, a Barcelona company that manufactures a variety of ultrahigh-frequency RFID components. "Of course, there are early adopters and there are laggards, but it's starting to become a real industry."
"Early adopters are retail companies like Trasluz and Gerry Weber," De Porrata-Doria says. "These companies have been first movers in using RFID at item level and adopting RFID in their business processes. Laggards are all those companies that have delayed the testing and deployment of RFID, because they don't see the advantages or because they prefer to adopt a 'wait and see' approach."
"France and Italy, as hubs of the fashion industry, are expected to continue their investments in RFID," Ravi says. He also notes that Germany, Europe's manufacturing core, is stable economically and will drive RFID investments in the manufacturing industries during the next few years. "The aforementioned factors do not point at economic conditions having an impact on the RFID market," he states. Ravi says Finland's Metsa Fibre, for example, is introducing RFID into production processes across the different mills it owns and is expected to be RFID-ready by the end of 2012.


Grone sees things the same way. "In Germany, we have a robust economy; it is better than most people believe," he says. He's convinced that RFID is playing a big role in his company's success.
European enterprises generally only begin RFID projects after completing careful research and establishing business partner participation agreements, Grone says. "Traditionally, European businesses have a strong intention to implement new technologies in a thorough way," he says. "Partial implementations are not preferred, although they could be rolled out faster."
Most RFID pilots and evaluation projects aim to cover the complete supply chain and obtain all the major benefits from the outset, Grone says. "This is harder to implement, but adds more strategic value," he says. "This might help in getting budget approval and in stating the importance of this new technology for many parts of the supply chain, thus... involving more people and speeding up implementations."
Innovative Partnerships
As government-funded RFID projects become increasingly scarce, businesses and research organizations are stepping in to fill the void. Preliminary analysis of the results of a pilot project carried out in Italy, and completed in Sept. 2011, shows that RFID-tracking product cartons can reduce the rate of supermarket out-of-stocks and improve product freshness. The project is supported by a consortium of eight Italian businesses, under the leadership of the
University of Parma's RFID Lab
. The group consists of retailers
Auchan
,
Coop Italia
and
Conad
, as well as goods manufacturers
Danone
,
Lavazza
,
Nestlè
(Buitoni and Purina),
Parmacotto
and
Parmalat
.
RFID technology also pops up as an essential element in programs receiving direct or indirect state support. In France, supermarket chain Groupe Casino is working on a project that uses Near-Field Communication (NFC) technology to help visually impaired people shop safely and efficiently. The company, with support from the Institut de la Vision, a vision disease research center, is currently testing its Accessible Shopping system. The technology allows shoppers with NFC-enabled phones to tap NFC tags on shelf labels to view larger, clearer text than is printed on item packaging. The system also helps users view product details, including ingredients, nutrition facts and recipes. The technology behind the system is provided by Think&Go NFC, a French NFC solutions provider.
With direct government RFID funding drying up, Groupe Casino sought an alliance with an interested partner. "This project is the first partnership between a retailer and scientific research laboratory," says Thibault de Pompery, design director of Saint-Étienne-based Groupe Casino's innovations department. "The purpose is to... improve the accessibility of our packaging, lighting, signage and checkout."
Groupe Casino is now planning an even more ambitious project that, once deployed at retail sites throughout France, will allow anyone equipped with an NFC mobile phone to access product information, fill a shopping cart virtually and pay for products electronically. "NFC is today the best way to shop for lots of products faster," de Pompery states.
Groupe Casino is just one of many European enterprises working to bring NFC to the public, Liard says. "The NFC-in-Europe story continues, which has been really exciting to watch," he says. "If you're looking for a specific country, France has been a key driver of the NFC market.
"Besides being home to one of the hotbeds of the NFC market [technology park Sophia Antipolis], France's status as an NFC leader is further bolstered by its government's support of the technology," Liard says. The French government, for example, has funded a trial of NFC-based public transport ticketing in Nice since 2010. "This initiative will expand to other cities in the near future," he predicts.
"In fact, in January 2012, France earmarked 20 million euros for the explicit purpose of expanding NFC-enabled public transportation infrastructure across the country's largest cities." Seventeen cities, including Paris, Marseille and Bordeaux, were selected to receive grant funding.
Bucking the Economic Downturn
Many European aerospace and automotive companies, construction and energy firms, manufacturers, and logistics and transportation businesses have completed RFID pilots and are rolling out the technology to increase productivity and reduce costs.
The need to drum up new business also is inspiring many European companies to think creatively and to apply RFID in innovative ways. In Spain, RFID innovation has arrived in the form of a system that allows shoppers to try on clothing virtually. The flagship Roberto Verino store in Barcelona features an AdvanMirror system, provided by Keonn Technologies, that enables shoppers to view themselves on a video screen as if they were already wearing a specific garment. The virtual mirror, which is activated by an RFID tag attached to the clothing item, allows the shopper to quickly sample a series of garments without a fitting room.


"Our sales personnel can surprise our customers by using a tablet to introduce them to the different products in our collection," says Vicente Rodriguez, systems manager for the Orense, Spain-based fashion chain. The customer can then ask to see the specific garments and view himself or herself wearing them on the life-size screen.
Rodriguez says it's still too soon to reach any definitive conclusions about the system, which has been tested only for a few months. "But the expectations we have at Roberto Verino are that it will reinforce combined sales and improve our customers' shopping experience."
In Regensdorf, Switzerland, Performance Buildings is employing RFID to put vacant and underused office space to productive use. By allowing businesses that require temporary office, conference or reception space to secure such facilities on a moment's notice, Performance Buildings is providing a useful service that wouldn't have been possible in the days before RFID.
With technology provided by HID Global, in Haverhill, England,
Performance Buildings
has developed a business model that focuses on boosting occupancy rates in office complexes that are partially or completely unoccupied. "Our basic idea is that most buildings are very rarely efficiently used," says Vishal Mallick, Performance Buildings' CEO. "If you go into any office building in any company, they may be occupying it, but there are desks that are empty or rooms that are empty."
Perfomance Buildings aims to maximize the potential of such "lazy assets." "We've taken this whole mobility idea of being able to work anytime, anywhere, but it's through RFID that you really can work in any space, in any building," Mallick says. "With their RFID [tag], users can go into the room they reserved—no one can steal your room because only your RFID [tag] will open it."
Mallick says Performance Buildings' business model meshes well with many existing enterprise RFID systems. "Most employee badges [in Europe] already have RFID in them," he says, "so this just extends their use."
Harm Radstaak, managing director of HID Global's Europe, Middle East and Africa (EMEA) operations, feels Performance Buildings is pioneering an important new business service. "Ultimately, the use of NFC smartphones for access control will make it possible to deploy inexpensive, robust access systems beyond perimeter access points to include interior doors... where previously it would have been prohibitively expensive to install a traditional wired access-control infrastructure," he says. He sees the instant-access concept moving into other areas, such as the instant acquisition of storage units.
Future Trends
Even when bottom-line adoption benefits are solid and apparent, RFID can be a tough sell, especially when a business is worried it may not have enough cash on hand to meet the next payroll. "There's a very tight grip on purse strings in most of Europe now, and companies... are trying to keep their heads above water," says Pat Doody, director of the
Centre for Innovation in Distributed Systems
(CIDS), a research organization headquartered in Tralee, Ireland, that focuses on industrial RFID applications. Given the current financial crisis, even a project with a short-term payoff potential can sound like a gamble to a beleaguered European business.
"You're talking about an ROI that's maybe six or 12 months away—it seems like great value, and it is," says Doody, who is also chair of RFID in Europe, an organization that specializes in RFID education. "But then once there's a capital investment [required], I think companies are struggling with that."


Such concerns are not always unwarranted, particularly when a business is located in one of the weaker Eurozone nations, in which government austerity programs are wreaking havoc in the commercial sector. "The problem with austerity is that it's primarily a cutting activity—there are no incentives to spend," Doody says. "However, I am hopeful that this will change in the near term."
In today's Europe, banks are often reluctant to lend money, even to businesses that are good credit risks, because lenders are being pressured by authorities to preserve capital. Meanwhile, companies with enough cash on hand to invest in beneficial new technologies often don't move ahead with their plans because they don't know how they'll be affected by the next round of government austerity cuts, which typically include higher taxes and other sales-depressing measures. "In the peripheral countries of Europe, it's, 'Batten down the hatches and try to ride out the storm,'" Doody says.
Nonetheless, for healthy businesses located in strong EU nations, RFID remains an essential key to accessing productivity improvements, competitive advantage and long-term profits. A growing recognition of RFID's importance is allowing the technology to make headway in a number of crucial business areas, Ravi says. "Manufacturing, transportation, cold chain, perishables and automotive markets are some of the sectors with more [RFID] growth potential, while the fashion and retail industries are the largest in terms of revenue contribution in the European RFID market," he notes.
Some of this good news is being dampened by a growing network of EU regulations designed to protect businesses and people against system weaknesses and abuses. Yet ultimately, the regulations have the effect of increasing costs while hamstringing system performance and usability.
Data security and privacy rules are exerting a chilling effect on RFID adoption in Europe, particularly on companies using systems that collect any type of personal data, discouraging red tape-wary businesses from acquiring the technology. Ravi notes that the European Commission, the EU's executive body, has released a stream of directives relating to privacy and data security. "All companies implementing RFID must comply with these directives, such as [a] data protection directive, an e-privacy directive and a PIA [privacy impact assessment] framework," he says.
Regulation-enamored Brussels bureaucrats could further accelerate RFID growth by repealing, or at least simplifying, compliance mandates, but no one really expects that to happen. In the meantime, RFID vendors, consultants and adopters, particularly smaller potential adopters that would be hard-pressed to keep pace with a rising tide of paperwork, must waste valuable time creating plans and filing forms that some say do little to make data safe or private.
Fortunately, RFID is so appealing that even financial and regulatory burdens can't keep it from moving forward. Ravi anticipates strong growth in several areas. "Cloud computing is expected to drive adoption of RFID in many verticals," he notes. "The RFID sensor market is another area that is expected to have huge potential." Ravi adds that RFID-enabled automotive safety systems also are likely to gain traction over the next few years.
Liard points out other bright spots. "We are seeing additional RTLS [real-time location system] deployments in hospitals within Europe," he says. "That's something we've seen pick up in the last year to 18 months, which has been great." Liard also foresees a booming market in electronic identification documents, including national health insurance cards and passports. "Overall, RFID's future in Europe appears very bright."
Recent RFID Rollouts
Here's a sampling of how European companies are deploying radio frequency identification technology to increase productivity, reduce costs and boost profits.


Automotive and Aviation
Asco Tracks Component-Building Tools via RFID


The Belgian aircraft parts manufacturer has reduced the amount of time its employees spend locating the large tools within its seven-building campus, from weeks to hours.
Continental Tire Plant Increases Productivity, Reduces Waste


The company's French factory is producing 5,000 more tires per day, while decreasing waste of materials by 20 percent.
Metal Fastener Company Improves Production With RFID


Nedschroef, a Dutch manufacturer of metal fasteners for the automotive industry, has reduced the incidence of shipping errors at its plant in Plettenberg, Germany, down to 1 percent.
Portuguese Airline TAPs Into RFID


The national airline uses radio frequency identification to track engine-overhaul components and tools. The system improved visibility into its parts and tools.
Construction
Grunnarbeid Begins Full-Scale Rollout of Tool-Tracking System


The central Norwegian construction company is installing an RFID solution across all its operations.
Swedish Tunnel Uses RFID to Monitor Air Pollution


The nation's transport agency is tracking air quality, to ensure workers are not exposed to excessive levels of toxic gases.
Energy
BP Refines Maintenance Operations


The international oil and gas company developed an RFID solution in Germany that streamlines processes, making work safer and more cost-efficient.
Swedish Iron Mines Get Buckets of Benefits From Passive Tags


LKAB's operations have become more efficient, thanks to the use of RFID technology to identify the quantity and quality of ore and rock that loaders are removing.
Manufacturing
AL-KO Improves Production Management via RFID


The German manufacturer of industrial air conditioners now has visibility into which parts are arriving at its final assembly plant.
Grupo Vidrala Tracks Bottles From Production to Shipment


The Spanish glass manufacturer is using an RFID system to improve efficiency and reduce errors as pallets of product move through its warehouse and on to customers.
Window and Door Company Doubles Output via RFID


Idealcombi, a Danish manufacturer, has reduced the time required to produce a custom window or door down to about one minute, using RFID tags to automatically adjust the settings on its manufacturing equipment.
Logistics and Transportation
Finnish Transport Agency to Track Railcar Health via RFID


The system monitors the axles and wheels of passing railcars, to identify cars that may require servicing, as well as to monitor traffic conditions.
Metsä Fibre Boosts Accuracy, Speed of Wood-Pulp Shipments


The Finnish company is RFID-tracking the locations of bales of pulp, from the point of manufacture to their delivery to a European paper mill.
Michelin Uses RFID to Track Tire Pressure and Tread for London Bus Company


The system makes it simpler for bus-fleet managers to monitor tire pressure, and thereby improve safety and efficiency.
Packaging Company Tags Its Shipping Containers


Færch Plast, headquartered in Denmark, relies on RFID to monitor the reusable steel cages it employs to deliver plastic trays its customers use to package food products.
RFID Takes Root at Baas Plantenservice


The horticulture distributor, based in Holland, is tracking 3.84 million plant trolleys it has put into circulation across Europe.