Sep 15, 2013In 2010, Alog Data Centers—a Platform Equinix company and one of Brazil's leading data-center firms—faced a critical challenge. The company's business was expanding by 20 percent annually in response to the global trend toward cloud computing, as well as managed and colocation services. It operated three data centers, located in Rio de Janeiro, São Paulo and Tambore, with plans to open a second facility in Rio de Janeiro. As such, Alog needed a more efficient way to manage its corporate customers' computing and storage needs.
Nelson Mendonça, Alog's operations director, began considering how to upgrade the company's IT hardware inventory system, which comprised a mix of spreadsheets, bar codes and manual processes. In addition, Alog needed a more efficient way to comply with new international standards (akin to the U.S. Sarbanes-Oxley Act) mandating periodic fixed-asset reporting and auditing for IT service firms that have public companies as clients. Mendonça says his overarching goal for Alog was to upgrade the security of client data, streamline reporting processes and reduce associated costs.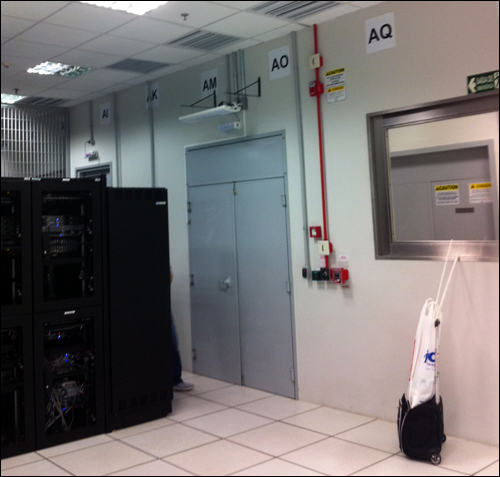 Today, Alog relies on a radio frequency identification IT asset-management solution to track and monitor 20,000 fixed assets, including computers, servers, modems and equipment racks, within four data centers that service 1,500 corporate customers. Together, the four centers total 31,000 square meters (334,000 square feet). The new RFID-enabled data center in Rio opened on Sept. 26.
In general, data centers are required to perform inventory counts every three months to comply with government and industry regulations, but they need to do it more frequently for internal purposes, says Lucas Almeida, the director of operations at São Paulo-based RFIDeas, the technology integrator that partnered with Alog to develop and deploy the RFID asset-management solution, known as Automatic Real-Time Information System (ARTIS). "The existing manual processes are error-prone, inefficient, laborious and time-consuming," he explains. Automation via RFID reduces human error, inefficiency and liability, reducing costs and complexity while increasing flexibility and control, he says, adding, "It provides full visibility of the IT assets' life cycle to the business level."
"The potential security vulnerabilities, compliance risks and operational inefficiencies caused by a lack of institutional control over an organization's IT hardware are becoming a priority" for data-center leaders, Almeida says, noting that in today's constantly changing data centers, as much as 40 percent of IT assets are moved in or out, or are shifted internally, each year due to equipment additions, provisioning, servicing and end of life. Consider the havoc wreaked if a single laptop ends up missing from any one business, Almeida suggests; now compare that with the potential harm if a server containing critical client data vanishes from a facility responsible for safeguarding that information.
The Road to RFID
"In the very beginning, we tried to reach RFID companies to evaluate RFID technology," Mendonça says. "We set up a group of three people—a software developer, an IT operations coordinator and a business intelligence analyst—to conduct a viability study."
What Mendonça's team discovered, though, was a dearth of companies specializing in RFID in Brazil, as well as costly proposals from firms based elsewhere. "All the project proposals we received were much more expensive than we had expected," Mendonça states. "More importantly, there were no business cases with proven substantial ROI and short payback time."
So Mendonça shelved the project until early 2011, when RFIDeas, then a startup, approached the company with an irresistible offer. "They needed a business case, and we were the perfect one for them," Mendonça recalls. "They proposed to become our partners—and, in return, they would develop and deliver to us a fully operational RFID pilot project free of charge. We agreed that if the results were positive, we would expand [the solution] to all the Alog data-center facilities. It gave us a great opportunity to test a real implementation at no cost." Since then, he adds, through a rewarding series of testing, pilots and deployments, "RFIDeas has become one of our greatest partners."
Developing a Solution
The RFIDeas representatives worked with Alog's RFID team to test a slew of tags and readers from a variety of vendors, along with the ARTIS middleware, and mobile software based on Microsoft's Windows mobile operating system. The objective: to ensure accurate monitoring of assets entering and exiting the Tambore data center, as well as internally, within and between the facility's rooms.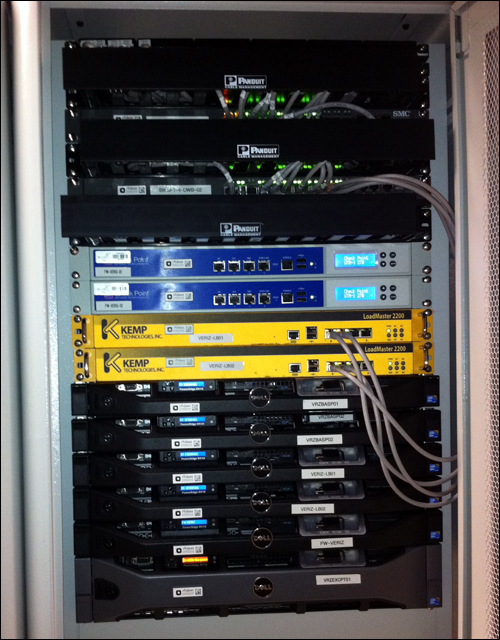 The team devoted roughly nine months to trying several combinations of tags, frequencies and styles, using numerous placements and mounting techniques, with readers that performed at different rates and in various frequency ranges. They also tested the broadband and Wi-Fi network performance of fixed and mobile readers, respectively, to check for speed and reliability.
After testing roughly 15 conventional tags, says Alog's operations manager, Leandro Gimenes, the team contracted with Confidex to customize its Steelwave Micro Higgs-3 tag, a passive ultrahigh-frequency on-metal tag. The custom version is designed to minimize the interference from electrical and metal components prevalent within a data center, ensuring correct data filtering and processing despite the large volume and density of data in such an environment.
In addition, the group installed Impinj Speedway Revolution R640 fixed readers above all the facility's perimeter portals. Now, every time a door opens, a magnetic sensor triggers the corresponding reader, which records the data from any tag passing through that portal and wirelessly forwards it to ARTIS, the asset-management software, which processes that information and transmits it to Alog's enterprise resource planning software (a legacy system known as Persa, with which ARTIS is integrated via Web services).
The team also opted for Motorola Solutions' MC9090-G and MC3190-Z mobile readers. These handheld devices, based on Microsoft's Windows mobile operating system, provide fast read rates and high throughout, and also have a relatively simple user interface, Almeida says.
Each time an Alog worker adds or deletes a tagged IT item from a rack, for instance, he or she uses the mobile reader to perform a rack inventory—this typically takes less than 5 seconds to complete. The mobile software sends the updated information via the Wi-Fi network to ARTIS, which processes it and sends it to Alog's ERP software.
The final solution "works perfectly," Gimenes says. "In one to two seconds, we can read everything in a rack." What's more, he notes, by conducting extensive testing and piloting early on, Alog managed to avoid having to make last-minute changes during its live RFID rollouts.
Implementation and Challenges
During a three-month field trial launched in September 2011, the RFID team encouraged all employees to use the new system. This is one area in which having a multidiscipline team pays off, Almeida notes. "An RFID project can improve many different processes dramatically throughout the organization, and having a cross-functional team increases the chances of success," he says. "People from different areas can promote the technology benefits among colleagues, leading to a smoother technology transition and greater added value perception."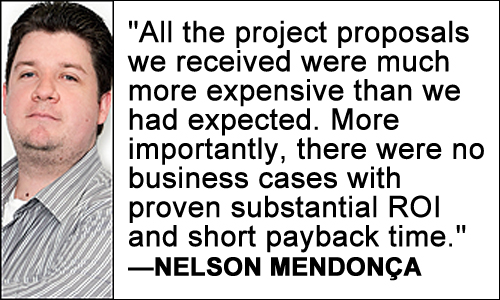 Initially, Mendonça says, most users were "shocked" by the amount of time the solution saved, primarily when it came to inventory collection and repository updating. Eventually, though, as users became more familiar with the system, they began to share more detailed feedback, which proved invaluable.
"As time passed," Mendonça states, "many users returned to our support team asking for improvements." Their experiences, he says, included findings of misread data when servers and racks were in close proximity to each other, less-than-optimal tag placement, and labels missing from some items.
In response, the RFID team re-evaluated its tag positioning and labeling procedures. "We had to define special tag positions," Almeida explains, "to make sure we had reading reliability and no tag exchange between different IT assets, in case they were placed in exchangeable parts."
What's more, the team added several Wi-Fi access points at the Tambore facility, to strengthen the signal power for the mobile readers and increase overall coverage area there.
One of the most challenging portions of the pilot and subsequent launches has been the initial identification and tagging of the many IT assets at each facility. "The hardest part is identifying all the assets that have to be tagged and entered in the new system," Gimenes says. But, he adds, "We have a good partnership with RFIDeas, and they did that, and they do it ongoing. They have good knowledge and good background."
During the next year or so, the team deployed the RFID system at Alog's São Paulo and Rio de Janeiro facilities, before breaking ground on its newest state-of-the-art data center in Rio. "We improved our tagging procedures and added access points based on all the experience we acquired from the previous implementations," Almeida says.
All employees received access to a training video and self-study guide, for instruction on how to use the new technology. "Every employee, new and old, learns how each part of the system works, and there is a question-and-answer section for them to perform," Gimenes says. "They learn how to hang the [fixed] readers, how the tags connect in the cabinets, how to use the software, and so on."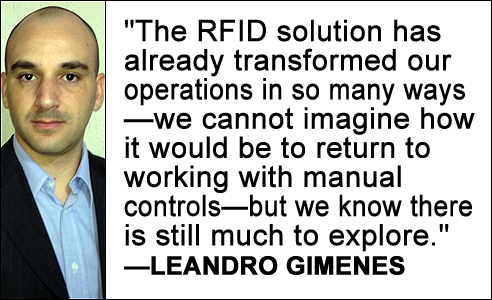 Benefits and ROI
"The solution is very simple to use," Gimenes says, "and we like it a lot because it makes our operations very productive. We get information much faster and in much more quantity now, and we can control the information easily, we need [fewer] employees to control it, and we have less loss… Now I can tell how many items are in each rack [at any given point]. I know the whole history of each asset, so if, for some reason, an object is moved, I can [trace its movements]. With the old pen-and-paper system, we could miss key assets because we didn't have these controls." What's more, he notes, it now takes significantly less time to perform rack inventories, and repository updating occurs immediately, in real time.
Overall, Mendonça says, the RFID deployment has dramatically reduced Alog's annual operational costs, factoring in savings from automating inventory-taking and records-updating, as well as reduced costs of locating misplaced or misdocumented assets and replacing lost or stolen items—the fast, substantial return on investment he had sought.
"We are still focused on expanding RFID functionalities and improving integration with Alog's legacy ERP system," Almeida says. "We have discussed deploying RFID to every other IT asset in the company, but it is still a next step that will be addressed at the appropriate time."
"The RFID solution has already transformed our operations in so many ways—we cannot imagine how it would be to return to working with manual controls—but we know there is still much to explore," Gimenes says. In partnership with RFIDeas, he adds, "we intend to continue improving accuracy and efficiency for our customers, based on the real-time data the solution provides."