Oct 04, 2018Coca-Cola Hellenic Bottling Co. (Coca-Cola HBC), one of The Coca-Cola Co.'s largest bottlers, has launched a wireless system to collect data from hundreds of thousands of in-store coolers. The Internet of Things (IoT) system, provided by digital transformation technology company Atos, captures the stock level at each store, along with customer activities and cooler temperatures. The solution also enables engagement with customers who buy Coca-Cola products.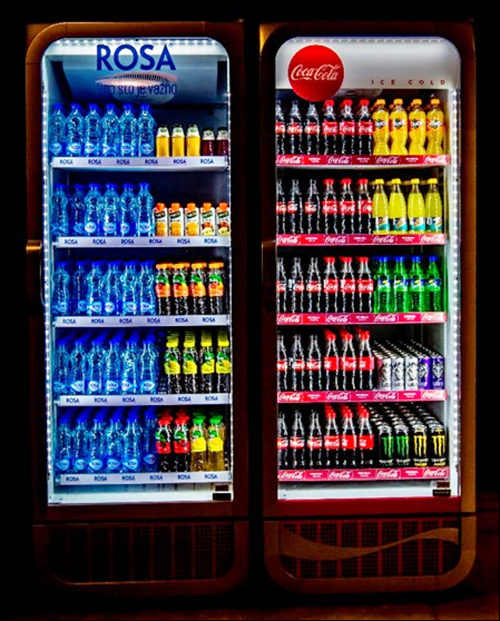 Atos's Codex technology leverages Bluetooth Low Energy (BLE) technology as part of the solution, which Coca-Cola HBC calls connected coolers. The new system was announced in July 2018, and the companies are now working together to connect the coolers across the 28 countries in which Coca-Cola's products are sold. Worldwide, the bottling company has a fleet of 1.6 million coolers in operation, 300,000 of which are expected to be connected to the system by the end of this year. In the long term, Atos predicts, the technology will connect Coca-Cola HBC's entire fleet of coolers.

Coca-Cola HBC is one of the world's largest bottlers, with operations throughout Russia and other European countries, as well as in Nigeria. The company reports that it serves approximately 595 million consumers. Atos has already been working with Coca-Cola HBC for more than 15 years as a provider of IT solutions, says Joshua Fiorenza, Atos's VP and head of North America Operations for IoT.
For the connected cooler solution, the challenge was to attain real-time visibility into Coca-Cola HBC's in-store cooler placement and product availability, as well as customers' buying behaviors and the temperature inside each cooler—all without requiring a sales representative to be onsite. The solution began with a proof-of-value pilot. Atos provided the initial pilot with a simple installation designed to scale, Fiorenza recalls. "A large IT service provider such as Atos can deliver customers an E2E [end-to-end] IoT capability," he says, that includes design, building, installation and support across many business platforms.
The pilot's results found a sales increase of up to 10 percent per cooler. As a result, the beverage company is now scaling the program out further. It has a goal of connecting 300,000 coolers by the end of this year, according to Fiorenza, but that number could reach 400,000 within that span of time. Coca-Cola HBC referred all questions for this story to Atos.
Each cooler is equipped with a pair of wireless, battery-powered cameras, as well as a BLE beacon and temperature sensors. The two cameras are mounted at the top of the cooler door to capture changes to the inventory planogram (the diagram used to stock shelves). Camera images are forwarded to the Codex software, which analyzes those images and provides cloud-based dashboard metrics, such as out-of-stocks, unused shelf areas, sale by stock-keeping unit (SKU) and planogram compliance. The solution can also issue alerts for replenishment orders.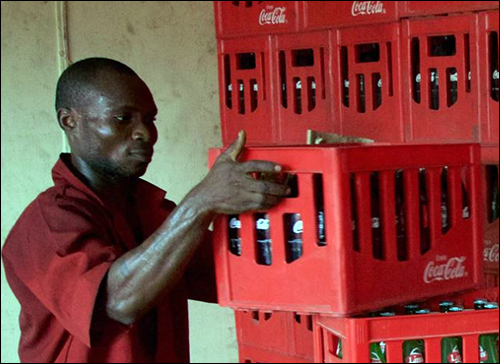 Sensors are wired in the back of the cooler, and to the cameras. Temperature, light and vibration sensors detect not only whether a particular cooler is maintaining proper temperature, but also how often its door swings open and closed, and when the cooler is moved.
The system employs cellular (GPRS, 3G, 4G or LTE) transmissions from an edge gateway device, transmitting back to a server, while the gateway comes with an offline storage capacity of up to 16 weeks' worth of data. Once data is collected via the gateway, a real-time communication cellular-based bridge is established between the gateway and Microsoft's Azure Cloud software.
Each edge gateway device comes with a Bluetooth beacon. BLE functionality enables consumers to interact with the coolers via their smartphones. The solution utilizes an app provided by Atos. The BLE beacon transmits a signal that is captured by app-using phones as they come within range of a connected cooler. In this way, customers can receive customized offers and "near-me" promotions. The goal, according to the company, is to ensure that products are available and stored under optimal conditions, and that they attract the interest of consumers, ultimately boosting product sales.
The mobile application allows data to be delivered to BLE-based devices, in the hands of not only consumers, but also store owners or managers, as well as Coca-Cola HBC's sales force. Typically, store owners can use their mobile phones or tablets to access data regarding each cooler's conditions and use, in order to understand and manage shelf availability and planograms. Coca-Cola HBC's salespeople can then use the application during onsite visits to identify the history of sales and conditions.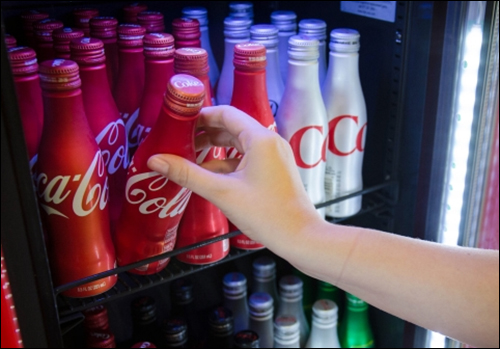 "Using smart coolers is the first step in the digital transformation with the IoT roadmap ending in a fully connected ecosystem," Fiorenza states. Coca-Cola HBC has also begun to seek out opportunities to integrate delivery vehicles for route optimization, utilizing data about stock levels using the Codex app. For instance, drivers of delivery vehicles could access a recommended delivery route, and the drivers' locations could be made available to Coca-Cola HBC to improve delivery efficiency.
Already, however, Coca-Cola HBC can easily access each cooler's inventory data to plan delivery schedules before trucks are loaded at the warehouse. "Coca-Cola HBC can now predict and ensure the right product is on the right truck routed to the right store," Fiorenza states. This, he adds, reduces the risk of out-of-stocks, while also boosting sales.