Mar 19, 2017Airbus has developed a tag-management software platform known as Airbus Tag Check (ATC) that the aerospace company and its suppliers can use to ensure that every ultrahigh-frequency (UHF) RFID tag applied to parts built into aircraft are in working order and meet Airbus' specifications. Its goal is to provide automatic validation of nameplates and other part-marking solutions applied on all aircraft parts.
Two of the company's suppliers have begun using the software to commission the tags they apply to parts made for Airbus aircraft. ATC is also widely used by Airbus internally.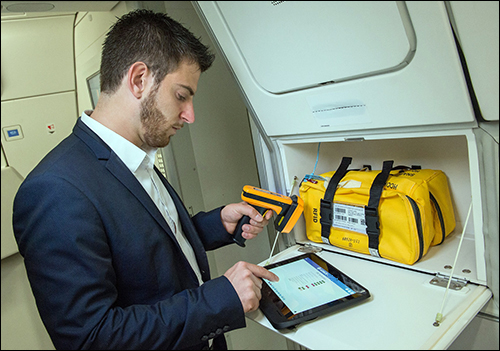 The ATC mobile test application will help Airbus to ensure that all parts are properly tagged. Additionally, the company reports, it will enable it to save labor hours that employees would otherwise spend manually scanning and checking the data on each tag for flyable parts.
Thus far, says Maxime Saraiva, Airbus's IoT project manager, the software has reduced the amount of time required to test a part's tag from about two hours for the manual process to approximately three minutes with an RFID reader running the software.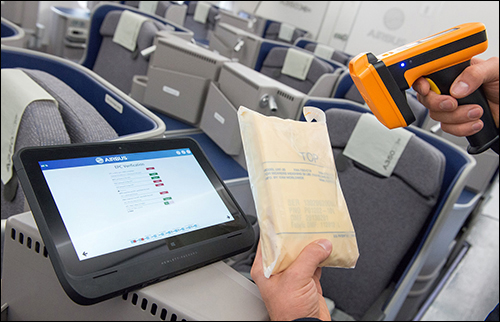 RFID tags are being applied at the point of manufacture, and are used by Airbus to confirm details regarding each part during assembly of an airplane. Airlines are now using the tags as well for their own purposes, such as maintenance tracking. However, the use of RFID and bar-code labels is closely regulated.
Airbus and its suppliers must meet the aircraft company's own specifications, as well as specifications for the tagging of parts based on Spec 2000—a set of standards established and maintained by the commercial aviation industry. That includes the storage of specific pieces of data that must be accessible and follow a particular flyable part.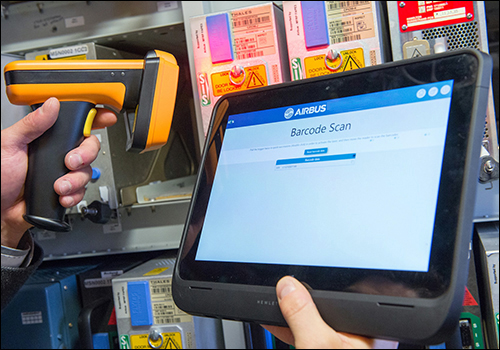 Traditionally, when an aircraft part arrives from a supplier, Airbus personnel must validate that each RFID tag is transmitting, and that the correct data is being stored and remains accessible. For suppliers, the process is also arduous, for they must confirm the tag's operation and the correct data storage before shipping that part to Airbus. The process is not only time-consuming but also error-prone, and Airbus and its suppliers had no shared system in place to manage reports and tag statuses. So Airbus built the ATC system to improve the time and effort spent on these processes, as well as the visibility and quality of tag data.
Airbus is in discussion with approximately 100 suppliers to apply RFID or 2D bar-code tags to flyable parts. The firm began developing the software that is being used with a handheld RFID reader; it can also scan bar codes to test bar-code labels.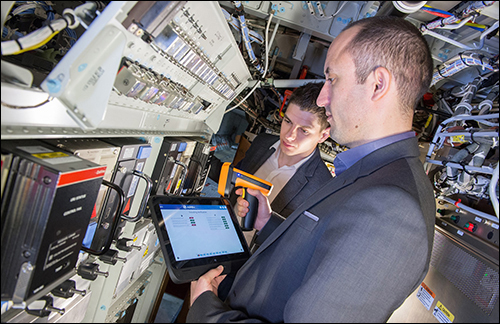 The software can be installed on a laptop or tablet running Windows 7, 8.1 and 10, which Airbus is providing it to suppliers at no cost. Suppliers first encode the RFID tags attached to their parts, then use a handheld reader running the ATC software. The device captures the tag data in order to identify whether the Electronic Product Code (EPC) is permanently write-locked, the current and scratchpad data record is not write-locked, the birth record is permanently write-locked and the tag meets most of Spec 2000's requirements, as well as the manufacturing date, serial number and part number included. Additionally, the software compares the item weight, hazardous material status and other details, such as electrostatic sensitivity against the aircraft for which it is destined, to prevent any mistakes during the part's installation within an aircraft.
Users also input data such as RFID tag manufacturer and attachment method, along with the maximum read distance between the reader and tag. If all of the data is accurate, the software displays a green icon on the reader, or red if there are errors, which the user can then correct.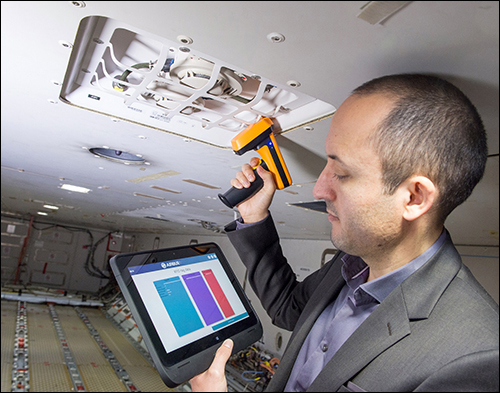 The user presses the prompt to generate a test report. This is then forwarded to a dedicated Airbus server, where it can be shared with authorized stakeholders.
Once the part is received by Airbus, staff members there can use a handheld reader (the company is employing RFID readers supplied by Technology Solutions Ltd.) to interrogate the tags again, thereby confirming that the tags are in operation and the data is accurate. They also take pictures of the label, to be stored in the ATC software.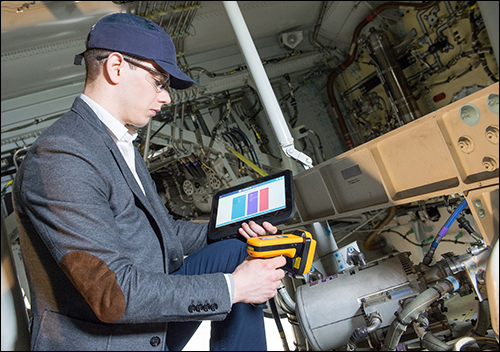 In this way, the firm can now be sure that as a part moves into assembly on an aircraft, its tag is operating properly, and the right data is stored on that tag and correctly locked, if necessary. The software stores that information so that it can be accessed if the tag is read again.
The new system was taken live in March 2016, Saraiva says, and the first two part suppliers are currently using it to submit their tag data to Airbus for validation and technical support at the time that the tags are encoded on new parts destined for Airbus. To date, he adds, "ATC is mostly used internally by our technical team."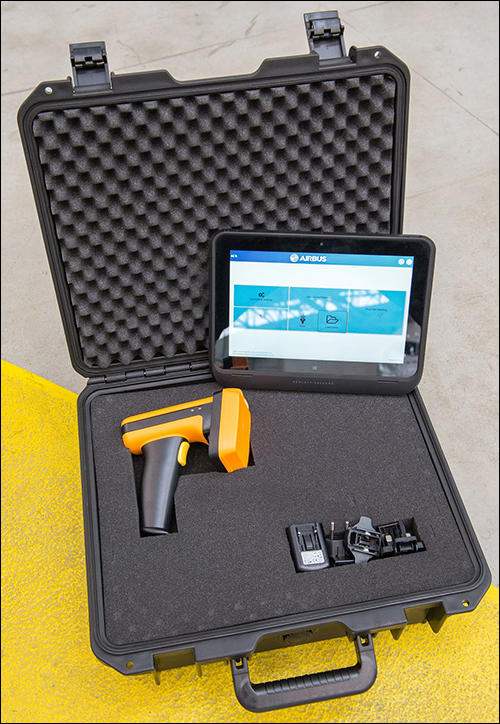 "Our aim is for suppliers to do an early validation and detect any issue and correct it before delivery to Airbus," says Kais Makhlouf, Airbus's deployment leader of automatic identification for flyables.
Airbus intends to expand the software's use to other suppliers during the coming months, and will loan a TSL handheld reader kit to those suppliers when necessary, for use in testing. Currently, the company reports, ATC is only compatible with the TSL reader.
Photos courtesy of Airbus S.A.S. and P. Pigeyre/Master Films