Jan 11, 2015The integration of automatic-identification systems will be greatly simplified and standardized, thanks to a planned communication standard based on the OPC Unified Architecture (OPC UA). Since the spring of 2014, the systems integration workgroup of the industrial association AIM Deutschland, together with the OPC Foundation, has been jointly developing a so-called companion standard to OPC UA.

When it comes to optimizing production or logistics, the automatic identification of all kinds of objects continues to be an important issue.
Accordingly, strong growth of the auto-ID market is expected—the experts of ARC Advisory mention an annual increase of 15 percent for RFID alone. Nevertheless, obstacles to broader adoption do exist. One of these is the expensive and complex integration of RFID or code-reading technology into the various background systems. Today, roughly 25 percent of the project costs are spent on RFID services, which also include integration into the IT or automation environment. One reason for this is the lack of a widely accepted standard covering both the different reading devices and the various host systems, such as programmable logic controllers (PLCs) or IT systems.
The resulting disadvantages are considerable. Although reading devices from different manufacturers are indeed standardized with regard to how code is captured, a separate driver must be executed for each device in order to establish communications to the next system level. Once a user has chosen the components from one manufacturer, it is very costly to use another company's components—which, for example, may be better suited for certain special applications. Employing different auto-ID methods in hybrid applications (bar codes and RFID, for example) also results in significant additional costs.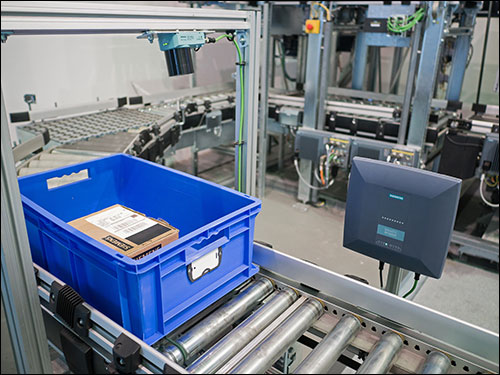 Moreover, system environments are becoming increasingly heterogeneous. While auto-ID installations tended, in the past, to be closed applications—for instance, RFID readers that communicate directly with a PLC to control a production line—the widespread use of automatic identification is leading to a large number of systems requiring data from the identification. If, for example, a part is marked with a data matrix code, this code can be utilized to control the goods-receipt posting, quality testing of the part, verification of the code quality, material-flow management and warehousing, as well as a product's mounting and installation. However, there are different management and control systems for all of these tasks.
On the basis of a cooperation agreement, signed by AIM Deutschland and the OPC Foundation during Hannover Messe 2014, a joint workgroup is now developing a common integration standard, which also includes the semantic level. OPC Unified Architecture forms the basis. Though originally intended for automation, this platform has long since progressed to become an important communication standard in other industries and application fields as well. In particular, when it comes to connecting devices at the field level, OPC UA is becoming increasingly more important. The standard is supported by IT companies such as SAP and Microsoft.
All identification methods are to be represented in the new standard: RFID in all its different forms, bar codes, 2D codes and real-time location systems (RTLS). Here, the object-oriented modeling possibilities in OPC UA are particularly important, since device-dependent extensions can be provided as required. For instance, an RTLS detection event can be interpreted just like an RFID event, only supplemented by geographic coordinates.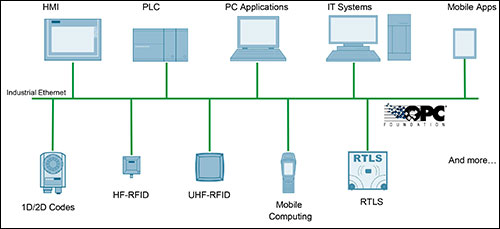 A second goal is interoperability with PLCs, simple PC applications and complex IT systems. This is the reason that two communication mechanisms are planned—a synchronous call interface, which is more suitable for PLC and PC applications, and an asynchronous event interface, employed in IT systems.
OPC UA ensures broad support for a wide range of application systems by employing different standard technologies, such as Web services, as communication layer. OPC UA is thus no longer tied to a specific operating system platform, unlike its predecessor, OPC Classic. As a consequence, OPC UA can run on Linux, Solaris, QNX, VxWorks and Windows. At the same time, the OPC UA stack is scalable so that powerfully equipped systems (such as ultrahigh-frequency RFID readers, which often feature a dual-processor architecture), as well as very small identification sensors (including those in the high-frequency range) can be supported. Defined profiles determine the specific function scope.
From the perspective of the AIM workgroup, OPC UA offers further important features. One of these is the integrated security concept. For instance, methods for the authentication of clients and servers, as well as users, are planned, which operate on the basis of X.509 certificates. A high degree of privacy is supported by means of symmetric and asymmetric encryption. A second aspect, in particular, with regard to identification systems, is ruggedness—preventing data loss, for instance. Communication failures are quickly detected, without having to wait for timeouts of the underlying protocol layers.
Moreover, OPC UA provides an information model known as Historical Access, with which historical events and server data can be retrieved. From an identification standpoint, this model is well suited for performing an autonomous detection (such as documenting the receipt of goods), even if there is no connection to the enterprise resource planning system. The data in the Historical Access model is simply retrieved at a later time. The third and most important point, however, is the high level of standardization and market penetration of OPC UA. This ensures that many identification-device functions, such as device management, do not operate differently than for all other device types.
For the application to auto-ID, a joint workgroup from AIM and the OPC Foundation is now developing a so-called companion standard to OPC UA. This standard will define all methods, data structures, event types and so forth that are required to connect identification devices. However, the architecture allows manufacturers to implement their own add-ons (see Figure 1). As a basic principle, the identification devices will provide an OPC UA server, which serves as the data source. The captured IDs can either be requested by an OPC UA client using a method call (synchronous communication), or be asynchronously transmitted via an event to the registered client. In addition, there are device-management functions (for example, query of device type, version number, manufacturer, designation), as well as device configuration management. These are mapped as a file so that they can be transmitted with read and write instructions to a device, or be loaded by it.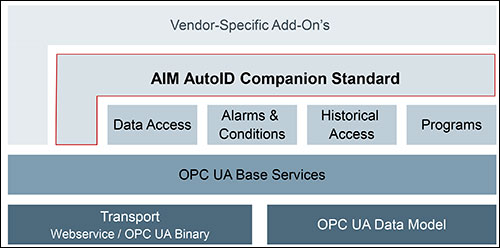 The workgroup has set itself an ambitious target with regard to the schedule—a first draft of the specification is expected to be completed and ready for review by Hannover Messe 2015. Initial implementation prototypes are also to be presented at the trade fair.
Conclusion
With the development of the new companion standard for OPC UA, AIM and the OPC Foundation have undertaken an important step toward greatly simplifying the integration of identification systems. OPC UA could thus become an essential base for the Internet of Things. The broad participation in the workgroup—which includes several well-known equipment manufacturers, such as Siemens, Harting, Balluff and Turck—also reflects the industry's considerable interest in jointly increasing the market penetration of auto-ID technologies.
Markus Weinlaender is the head of product management for Siemens' Simatic Ident division.